The Complete Guide to Start Print on Demand Business in Australia
Do you get tired of your 9 to 5 routine job? Do you want to start your business and build your own equity but don't have the high start-up investment money to get started? Wish you could have a business that got your creative juices flowing? Then, look no further. Read our comprehensive guide to starting your print on demand business in Australia.
This business idea is perfect for sparking your creativity while building your equity. More importantly, you don't need a high initial investment to launch your business. It's simple, easy, and profitable. Scroll down for more details on print on demand business, steps to get started, and profitable print on demand products to focus on.
What Is Print on Demand Australia?
To begin with, a print on demand business is where you partner with a white-label products supplier. Next, on a per-order basis, you customise those products with your designs and sell them under your brand name.
According to Future Market Insights, the global market for print on demand (PoD) was worth US$ 2 billion in 2022. This figure is expected to grow to US$ 30 billion by 2032, with a CAGR of 31% in the next ten years. That's huge! If you start print on demand Australia now, you can gradually grow your business and capture a good market share of this rapidly-growing industry.
Print on Demand Australia: Pros
As alluring and exciting as it sounds, it makes sense to understand what a print on demand business is and compare its pros and cons to make an informed decision. This business model offers numerous benefits, such as:
1. Quick Start
You don't need to invest big or have extensive entrepreneurial or marketing experience or background for a print on demand business. This makes it easy to get started.
2. No Inventory
It is a fulfilment business process that only dropships products to the customers on-demand and when the sale goes through.
Hence, you don't have to buy, stock, store and manage inventory. All you have to do is print custom merchandise on demand and send it directly to the customers.
3. Go Creative
Another advantage of a print on demand business is that you don't have to limit yourself. You can get creative with designs and ideas- showcasing your artistic skills without any risk. Indeed, it is easier to introduce and remove products as needed, test new ideas, and experiment.
4. Have Local and Global Footprint
With creative print on demand designed products, you can attract customers from Australia and all over the world. It gives you a perfect chance to have a global footprint and effortlessly sell products to local and international customers.
Print on Demand Australia: Cons
Though a print on demand Australia offers many benefits, there are some cons to this model too. These are:
1. No Quality Control
Delivering high-quality products to your customers is a big question mark because you don't manufacture products. Hence, you can never ensure you deliver quality products to your customers.
2. Limited Products
Another downside is that you may have to limit your offerings according to the supplier's products in their range.
However, the best way to overcome these issues is to partner with a trusted and well-reputed print on demand supplier like Inkedjoy.
Inkedjoy has been in the industry for over eight years and fulfilled nearly 60 million orders worldwide. Plus, they have a large product catalogue featuring more than 1500 products to choose from and customise. Categories include but are not limited to women's clothing, men's clothing, shoes, children's and baby products, bags, accessories, home décor, and more.
Is Print on Demand Business Profitable in Australia?
Yes. print on demand is a growing industry offering many opportunities for emerging business owners to excel and make profits in Australia. It is indeed a profitable venture for business owners for multiple reasons. For example, there is no significant initial investment cost, so as a business owner, you don't have to worry about recovering the money invested before reaping profits. In other words, you can churn profits when you start getting orders.
Furthermore, there is no inventory, so you don't have to stock your merchandise in a warehouse and bear a monthly or annual cost. Similarly, you don't have to incur shipping costs on your order. So, when you add these savings up, you can have higher profit margins than traditional e-com or brick-and-mortar business models.
Nonetheless, your earnings and profit margins will vary depending on your:
Brand's popularity
Quantity sold
Pricing
Marketing strategy
One of the best ways to grow your business and profit margins in Australia is to focus on brand building and marketing. Promote your business via:
Social media platforms (Facebook, Instagram and Twitter)
Use testimonials and product reviews to build trust
Utilise Google Ads campaigns
Optimise your e-com store
How to start a Print on Demand Business in Australia?
We have curated a step-by-step to help you launch your print on demand business in Australia. Follow these steps to get started:
1. Pick a Niche
First, identify your target audience and pick a specialised market segment. It will allow you to laser focus on that niche when you start. As you grow and scale, you can gradually diversify and increase your print on demand offerings. It's good to focus on one segment right now as it will be easier for you to manage and complete orders satisfactorily.
The best way to select a niche is to know your audience and opt for something you're passionate about, such as home decor, fishing, or camping. It can be practically anything. Another way to search for profitable niche ideas to start your ecommerce journey is to use Google Trends. It is a useful tool for assessing the popularity of different categories in Australia.
2. Decide on Products
Once you know your niche, it's time to decide on the products from your niche segment that you will customise for your audience.
With print on demand, the sky is the limit. And we couldn't agree more as you can personalise and sell an endless range of products, such as hoodies, shoes, bags, cushions, yoga mats, hats, pet supplies and more.
Kick off your research by getting ideas from websites like Amazon and eBay. These are great places to view bestselling products and what's trending.
However, while you're at it, a great tip is choosing products keeping your customers in consideration. Always keep the market needs of your audience in mind so that your products stand out. Learn about their preferences, buying habits and what they shop for the most so that you can choose the best products for your print on demand business.
3. Choose Where to Sell
The next step is to decide where and how to sell your customised products. You can sell through your e-commerce store or connect with an e-commerce marketplace such as Shopify, WooCommerce, or Etsy.
An ecommerce marketplace provides you with an easy set-up and free buyer traffic, but you have little to no control over your store's branding or content.
On the other hand, if you have your website, you can personalise it according to your branding needs and add content and promotions as required.
However, it can be time-consuming and may require a higher cost to attract traffic and optimise it to find your business online. Evaluate and compare your options to make an informed choice.
4. Pick a Supplier
The success of your print on demand business is correlated to the supplier you partner with. Therefore, research the market first. It is because you need a supplier you can trust for quality, depends on timely shipping and order fulfilment, and build long-term business relationships for future market diversification and expansion.
Searching for the right supplier requires legwork. If you want to get started fast, consider Inkedjoy. Serving Australian business owners in the print on demand industry since 2015, Inkedjoy has established a stellar market reputation based on their superior product quality, fast shipping and fulfilment orders, and professionalism. It's a name you can trust and count on.
Best Supplier for Print on Demand Australia
Inkedjoy is a user-friendly and free-to-use print on demand platform. It has no monthly subscription or sign-up fee. Furthermore, their website is easy to browse through. All you have to do is register an account to link and connect your own store with Inkedjoy.
Once connected, select the products from their catalogue of more than 1500 products. Use their powerful design toolkit to unleash your artist/designer and customise it as needed.
From free elements to texts and picture uploads, Inkedjoy offers everything you need to create a personalised product with sheer convenience. Next, design and preview the customised product in real-time. You can import your custom products from the Inkedjoy website with just a click. It's as easy as it can be.
Furthermore, when you start receiving orders, Inkedjoy auto-syncs them to their platform and handles everything like print checks, packing and shipping items to the customers. Inkedjoy also offers brand-building services and options like one-click batch design. These additional features can help you build and scale your e-com print on demand business in the long run.
5. Monitor and Manage Your Store's Performance
Running a successful business requires ongoing monitoring and management. You can integrate multiple online analytical tools into your ecommerce store to gauge the performance of your site, service, and marketing campaigns. According to the insights collected, you can make changes to achieve better results and boost sales.
High-Profit Margin Print on Demand Products
Here are some of the best and high-profit margin print on demand product ideas that you can choose from and start selling: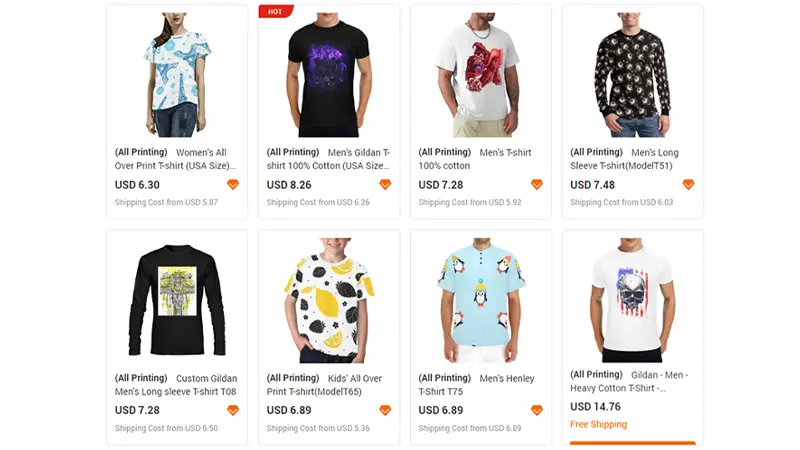 Custom tees never go out of style. Hence, they are always in demand. However, the best way to make this simple and basic product into a high-profit margin product is to design it for a specific niche. Unleash the artist within you to create fabulous designs that appeal to your audience.
Pet bag
If you're focusing on pet supplies, consider customising pet beds. According to the Global Newswire Forecast report, the pet care market worldwide will reach approximately $358.62 by 2027. So, you can capture a good chunk of this market by selling customised pet beds and other supplies.
After all, pets are like family to pet owners. They'd be willing to pay premium prices for customised pet products. Needless to say, pet owners like to invest in products that provide calming and best experiences to their pets. Hence, customised beds for pets, like calming beds, can be a great way to penetrate and capture this niche while providing superior comfort and relieving pets from joint pain. You can also upsell it with other customised pet care products.
Another high-profit margin product category that you can opt for is custom bags. According to a study, the Australian bags market is expected to grow by US$1,842 million with a CAGR of 4.92 per cent. The boost in the consumer demand for retail bags is fuelled by the growing number of supermarkets, retailers and shopping centres in Australia.
Wrapping up
So, what are you waiting for? Start your print on demand business in Australia today. Follow the steps discussed above to navigate the process smoothly and start churning profits quickly. Partner with a trusted supplier and get started now. You're only a step away from building your equity and becoming a successful entrepreneur. Good Luck!