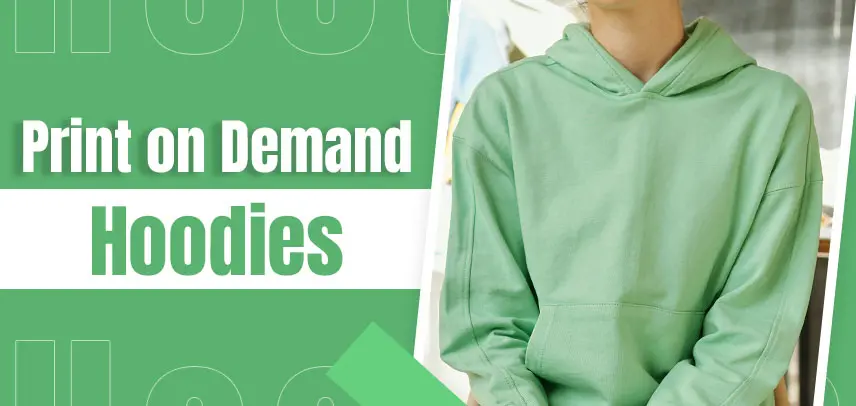 Best Print on Demand Hoodies: 15 Top Pciks 2023
The print on demand hoodies market has exploded in recent years, and current trends show no slowing down in coming years. Customers want more hoodies in their wardrobes, and unique designs are in demand across the globe.
More specifically, print on demand all over hoodies are one of the top selling products for print on demand stores. Many budding entrepreneurs and dropshippers have recently been looking to dropship custom hoodies to take advantage of its high demand.
Print on demand dropshipping products have generally become one of the most lucrative ecommerce businesses you can own. This is mainly because these businesses are very inexpensive and easy to setup, run, grow, and maintain while limiting the risks involved with a typical retail or apparel startup.
Another driver is the rise of the ecommerce industry since the pandemic. More people are shifting to online shopping, which offers plenty of sales potential and opportunities. Within the ecommerce industry, customized or personalized print on demand hoodies are particularly lucrative.
Let's discuss dropshipping print on demand hoodies, the top 15 suppliers to dropship custom hoodies, how you can dropship print on demand hoodies from home, and more.
Preview the passage
Is dropshipping print on demand hoodies a good idea?
Yes, dropshipping print on demand hoodies is a good idea and a profitable startup.
Dropshipping as a retail business model is generally very profitable and convenient, especially since you are not responsible for manufacturing, shipping, warehousing, or inventory. You take a relatively low risk and do not incur the type of losses a typical wholesaler or retailer does when things go wrong.
Here are a few reasons why dropshipping print on demand hoodies is a good idea.
Customized hoodies are becoming increasingly popular because they allow customers to stand out from the crowd and look unique without breaking the bank. Print on demand hoodies are also becoming a popular choice for corporate merchandise, promotional merchandise, free giveaways, social celebrations, branding strategies, and other marketing strategies. You can find hoodies being given away at events to booth attendees.
The range of print on demand hoodies is quite diverse. You have options like pullover hoodies, zip up hoodies, athletic hoodies, fitted hoodies, sleeveless hoodies, panel hoodies, cropped hoodies, and many more.
This product category can be further divided into men's and women's hoodies. Additionally, when you dropship custom hoodies, you have options like print on demand all over the hoodie and specific printed areas like the chest or back.
Unlike dropshipping regular, generic products, print on demand products offer higher profit margins. The market perception of customized products is that they are much more expensive than generic, mass produced products, allowing drop shippers to take advantage.
Hoodies may not have the same sales volume as print on demand t shirts. Still, selling customized hoodies offers a substantially higher profit margin in a low competition market. This benefit makes custom made hoodies an ideal product to sell via your online ecommerce store.
Starting a dropshipping business that sells print on demand hoodies is not expensive at all. The barrier to entry or startup cost is extremely low because you don't have to invest in manufacturing, warehousing, inventory, or shipping the hoodies.
You can start with less than $400 because all you need is a website or online store, a supplier, and a small marketing budget. Many successful dropshippers have started small and grown their dropshipping business to 6 figure revenues.
Top 15 suppliers for custom dropshipping hoodies
Your supplier is the most crucial part of your dropshipping business. Your suppliers are responsible for manufacturing, printing, branding, warehousing, inventory, shipping, and order fulfillment. Hence, you need a top supplier that can execute order fulfillment reliably and consistently.
When selecting a top supplier to dropship custom hoodies, consider things like dropshipping fees (is it free or paid?), variety of hoodies, minimum order quantity, availability of quality checking services, platform integrations, global shipping services, and turnover time.
Here is our selection of the top 15 suppliers for custom dropshipping hoodies.
1. Inkedjoy
Inkedjoy is the best, most popular supplier on our list and sits above the rest. We offer plenty of quick and easy integrations with useful ecommerce platforms and applications like WooCommerce, Etsy, etc., and comprehensive print on demand services.
We have one of the largest varieties of quality products, including a wide range of hoodies, ample customizations, and comprehensive branding services for your dropshipping business. Our global shipping services are convenient with great shipping time and buyer protection.
We have no minimum order quantity, so you can order single hoodies as well, and we charge no dropshipping fee because our platform is free. Most importantly, our hoodies are competitively priced, and you can set your own profit margins.
You can sell our print on demand hoodies at any price you want and make as much profit as you see fit. We provide an intuitive platform that is easy to use, responsive design tools, helpful marketing features, and excellent customer support.
As far as dropshipping platforms and suppliers go, we are the best option for both beginners and experienced dropshippers. Whether you are looking to start new hoodies dropshipping business or expand your existing one with print on demand hoodies, at Inkedjoy, you get the best of everything.
2. Merchize
Merchize is another top supplier and Vietnamese ecommerce platform with popular integrations, a custom API for professionals, comprehensive print on demand services, and a wide range of hoodies at decent pricing.
Merchize offer global shipping, which is free in the US, and printing in Vietnam, China, Europe, and the US. However, shipping times or turnover are not the best. There is no minimum order quantity, and you can also set your own profit margins.
Their platform is user friendly with design tools and some excellent marketing features, but their plans are slightly expensive. Merchize also offers customer support. However, it's limited to online support, which is not ideal for customers.
3. Gooten
Gooten is a top supplier with a range of unique products, including a decent selection of print on demand hoodies at competitive pricing. Their platform is also easy to use but not as intuitive as other top suppliers.
Gooten offer limited integration with only the most popular ecommerce platforms. Gooten shipping services are also not ideal because the shipping times are slow outside the US. As a result, international customers wait longer for their hoodies.
There have also been a few known incidences of customers receiving the wrong products or low quality products. The biggest drawback, however, is the inconsistency in print quality. These issues are likely present because Gooten outsources from global manufacturers and shipping companies.
Due to these issues, your customer may get confused when they order more than one product, and each product arrives at different times. On the other hand, their platform is free, and high volume dropshippers also get discounts on products.
4. Printify
Printify is a notable supplier for dropshipping print on demand products. It has a wide range of hoodies and offers competitive pricing. You also get substantial discounts (up to 20 percent) on products if you opt for their premium plan.
Their free plan is great for beginners, but the paid plans offer useful things like custom API integrations, branded customer support, a dedicated account manager, and early access to their latest features. However, budding drop shipping entrepreneurs should note that their customer service is lacking and needs some improvement.
At the enterprise level, you get more customized solutions as well. Overall, Printify's free plans are good for beginners, but growing print on demand dropshipping businesses could opt for superior top suppliers.
On the other hand, Printify offers a great enterprise plan for professionals. If you have an enterprise level business, you can really take advantage of their platform to dropship custom hoodies and other products.
5. Artsadd
Artsadd is a top supplier and an ecommerce platform with its own marketplace where you can sell its products. This supplier has a limited range of high quality hoodies, but these are relatively expensive. So, while you can set your own profit margin, the higher cost of hoodies will cut into your profits.
The Artsadd free platform is fairly easy to use but has limited integration options and a custom API for experienced dropshippers. This supplier has recently introduced branding services, which are good but not as good as some other top suppliers.
Artsadd also offers cash rebates to high volume resellers and product discounts for bulk orders and wholesalers. Its global shipping services are not the fastest, but they are reliable and offer tracking options for popular countries.
Ultimately, Artsadd is a top supplier for high volume print on demand dropshippers and wholesalers because they can take advantage of API integrations, bulk discounts, cash rebates, and the Artsadd marketplace.
Beginners who want a limited range of high quality print on demand hoodies may also consider Artsadd. However, there are better alternatives available on our list, such as Inkedjoy.
6. Gelato
Gelato is a supplier with a free plan, free trials for its paid plans, and discounts for yearly subscriptions. You get a decent range of ecommerce platform integrations and a custom API for advanced integrations. Gelato has a small range of hoodies, but the quality is great, and the pricing is fair for the quality you get.
Gelato ships globally with quick turnover times in most countries, and there is no minimum order quantity either. You can start to dropship custom hoodies without any dropshipping fee and opt for the paid plans as you scale your business.
However, once you scale enough to require their top plan, you'll have to pay yearly, which means a year long commitment to Gelato. While Gelato is good for beginners to start, the hoodies are limited, and your growth can cost you if you decide to migrate after paying for the whole year.
7. Printful
Printful is another popular print on demand platform and supplier for dropshipping products like hoodies. It offers easy integrations, no minimum orders, and a wide r ange of custom products, including plenty of print on demand hoodies.
However, their print on demand products and hoodies often lack color options. Their platform is user friendly and provides some free valuable features and services. There is an intuitive design tool, some marketing features, and decent global shipping services.
Their free plan is suitable for beginners, and their paid plans are priced fairly for experienced dropshippers. While you may have a slow start with limited features in the paid plan, once you start to dropship custom hoodies at scale, you can take advantage of the extra features in the paid plans.
8. Prodigi
Prodigi is another top supplier that prides itself on its eco friendly ecommerce practices. This platform is free and relatively easy to use but does not offer enough integration options. Prodigi has a wide range of products and product categories but a relatively small range of print on demand hoodies.
However, Prodigi is working on expanding its limited range of hoodies. The quality of their hoodies is high, which is why pricing is not the best, but you can set profit margins yourself. There is no minimum order quantity or branding service, but Prodigi offers white labeling, which means no Prodigi branding anywhere.
Prodigi's global shipping services are not the best, but it offers green packaging, eco friendly ink use, and free print samples. Prodigi is a good supplier for beginners who want a free print on demand platform with white labeling, eco friendly practices, and a small range of high quality print on demand hoodies.
9. Printaura
Printaura is a free platform and top supplier for print on demand hoodies. It has a decent range of print on demand hoodies and color options at competitive pricing, but the quality isn't the best. There is no minimum order quality with Printaura. It provides global shipping to dropship custom hoodies for you.
However, the shipping services can be expensive depending on the destination, and the Printaura platform has a limited number of popular integrations. Printaura provides comprehensive branding services and a decent design tool.
However, the best part about Printaura is that it provides buyer protection and replaces any defective products. Both beginners and experienced dropshippers can opt for Printaura's services if they want a free, no fuss platform, buyer protection, custom branding, and do not mind average quality hoodies.
10. Apliiq
Apliiq is a top American supplier and free print on demand platform specializing in streetwear. Their platform is reasonably simple but only offers a limited number of integrations. Apliiq has a small but versatile collection of print on demand hoodies with varied pricing depending on the quality and print service.
This supplier offers comprehensive branding services and pays close attention to detail. You can custom make the inner lining of your hoodies and add unique embroideries, custom patches, and pockets; this is something that most other suppliers do not offer.
However, their weight based global shipping and turnover are slow and pricey. Overall, dropshippers who don't mind paying extra for quality hoodies with more customizations can choose Apliiq as a supplier. It is ideal for artists who want to make limited collections, but high volume dropshippers may not prefer the extra costs, limited features, and detailed customizations.
11. Printy
Pwinty is a supplier and free print on demand platform owned by Prodigi, which is why it shares many of the same elements. Pwinty also has limited integrations, a small but expanding range of quality print on demand hoodies, no minimum order quantity, and white labeling instead of branding services.
So what's different? Pwinty is not as eco friendly and mainly caters to experienced dropshippers who want better pricing and scaling opportunities than Prodigi offers. However, Pwinty was new to apparel and primarily focused on printing photos, posters, etc., before Prodigi acquired it.
The platform can benefit experienced dropshippers if they don't mind the limited features and range of print on demand hoodies as Pwinty continues to expand its features and products.
12. Printbest
Printbest is a North American top supplier aptly that claims to offer the "best prints" in the industry. This is true, but other top suppliers offer similar print techniques and qualities.
Printbest offers integrations with popular ecommerce platforms, but it has a minimal range of good quality print on demand hoodies. They provide quick turnaround in the US, but shipping is limited to the US and Canada.
They offer decent branding services, customizations, and no minimum order quantity. However, wholesale and bulk orders get favorable discounts. Printbest generally offers interesting products from North American suppliers, including print on demand hoodies.
However, you'll find less expensive suppliers in this list who source their hoodies from international manufacturers. Printbest doesn't have the best customer service or an easy to use platform, which may deter beginners.
13. Redbubble
Redbubble is a free print on demand platform, supplier, and ecosystem. Unlike the other top suppliers, Redbubble does not provide integrations with other ecommerce platforms. Instead, it provides the marketplace for you to sell your artwork and designs on their products.
Customers come to Redbubble and find stores and customized products like print on demand hoodies; they then purchase them from the platform. Redbubble fulfills the orders, and you get paid a royalty for your art. You can promote your custom hoodies and products anywhere, but these products will only be sold through Redbubble.
The platform offers built in analytics for your store, decent customer support, good shipping services, and decent web traffic, but it lacks branding services, and the price of the products often fluctuates. Redbubble has a decent range of quality hoodies, but marketing your products can sometimes be challenging.
14. Imprinted
Imprinted is a UK based free print on demand platform and supplier with a decent sized range of print on demand hoodies. Imprinted offers a few popular integrations, a custom API, a straightforward platform, decent branding services, and global shipping services with an average turnaround.
This supplier also provides customer support, but it is not up to standard. Imprinted has some environment friendly practices, and you can set your own profit margins. However, their custom made hoodies are not the most pocket friendly options on this list.
Overall, Imprinted is a good supplier for beginners and experienced dropshippers in the UK, but it lacks quick integrations, adequate services, and competitively priced hoodies.
15. Printgenie
Printgenie is the final print on demand supplier and platform on our list of top suppliers. This supplier offers minimal integrations and limited varieties of print on demand hoodies at competitive pricing. Its platform is free, and there are no minimum order quantities.
Printgenie's competitive pricing allows you to earn more by setting a higher profit margin for yourself. Printgenie does not offer branding services, but you get white labeling for your hoodies. The platform is not the simplest, but it offers decent design tools and customer support.
The global shipping services are also fine but lack quick turnaround like some other top suppliers. Choosing Printgenie can be the way to go for beginners who want more significant profit margins and do not mind a small selection of print on demand hoodies. Still, experienced dropshippers may find more variety and better features elsewhere.

How to dropship print on demand hoodies?
In this section, we explain how to dropship custom hoodies using the top supplier, our own platform, Inkedjoy.
Simply visit the Inkedjoy website and sign up for free, so you can easily integrate with your online ecommerce store to begin.
Choose a hoodie on Inkedjoy and start designing
After the initial setup, start by visiting our platform and selecting a hoodie from our wide range of high quality, competitively priced print on demand hoodies. We recommend selecting a print on demand all over hoodie. Next, start designing and customizing the hoodie using our design tools.
Set the product details and push to store
Once you have finalized your design, set the color, size, branding, and other product details and push or publish the product to your online store. Now, your customers can see the product on your ecommerce store.
Inkedjoy fulfills your orders
Anytime a customer places an order for your print on demand hoodies, Inkedjoy will take the order, manufacture the hoodie, print the design, brand the hoodie, pack it, and ship it to your customer. Your customers are satisfied without any fuss, and you make a substantial profit from the sale.