Inkedjoy vs. CustomCat – Which Print on Demand Company Is The Best Choice?
Are you looking for a way to start a business with minimal risks and make high profits?
The traditional retail business model involves high upfront investments and can lead to putting up with a lot of competition and having to buy and hold an inventory that might not actually sell.
This is where print on demand comes is an alternative business model. The business model is particularly popular with artists, designers, and entrepreneurs wishing to sell custom-printed products.
In this article, we will explain more about print on demand and how it works. We will also give you an overview and complete comparison of two of the top print on demand companies in 2023: Inkedjoy and CustomCat.
This way, you can decide if starting an Inkedjoy or CustomCat print on demand business is a good idea for you. .
What is Print on Demand?
Print on demand – as you might be able to guess from its name – is where you sell custom printed products as your customers demand them.
This means that you have to work with a supplier of white-label products that will then custom-print those products for you and deliver them to your customers.
Selling products on a pre-order basis eliminates the need to hold an inventory and allows you to sell products without the risk of making a significant loss.
With the print on demand model, you don't actually pay for the cost of the white-label product or the shipping process until a customer has already placed an order and paid for it.
Additionally, other than actually making the sales and providing the designs, none of the other steps in the sale have to be handled by you.
The print on demand supplier handles everything from acquiring the products to printing, packaging, and shipping them. After making the sale, you only need to forward the request to your print on demand partner.
Because of the ease with which you can start and print on demand business and various other benefits the business model provides, print on demand has gained significant popularity over time.
According to Future Market Insights, the global market for print on demand was worth US$ 2 billion in 2022. This figure is expected to grow to US$ 30 billion by 2032, with a CAGR of 31% in just ten years.
However, to really run a successful print on demand business, you need to partner with the right print on demand supplier. We suggest you consider working with either Inkedjoy or CustomCat for print on demand.
To help you better understand the two companies and what you should be looking for in a print on demand supplier, we have outlined an Inkedjoy and CustomCat print on demand review for you. By comparing the two suppliers and their different features, you can see which one might be a good fit for you.
Inkedjoy is a print on demand dropshipping supplier under the umbrella of EPROLO – a China-based Dropshipping Company.
It is best known for being one of the most competitively priced print on demand companies and having a very large product catalog from which you can choose products to sell.
The platform offers a user-friendly customizer and a smooth order fulfillment process.
All the products on Inkedjoy are shipped from China or, in some cases, even from the US and Australia. With express shipping, the process takes between 5 to 10 days.
Inkedjoy has amazing reviews, and business owners that partner with Inkedjoy get to enjoy high profit margins.
The company has over four hundred thousand users currently and continues to grow. Since it was founded in 2015, Inkedjoy has fulfilled an incredible 60 million orders all over the world!
If you are looking for a large product catalog with high-quality, competitively-priced products, Inkedjoy is your supplier.
The company also helps you customize bulk orders, integrate with different platforms, and even sell products under your own brand name with its branding services.
CustomCat is another popular print on demand dropshipping company. With CustomCat print on demand, you can have unique designs printed onto 300 different kinds of products.
CustomCat handles all the product acquiring, printing, and shipping for you, and all you have to do is provide the designs and select which product you want them printed on.
CustomCat is based out of a production facility in Detroit, Michigan. This means that if you are looking for fast shipping within the US, CustomCat is the best choice for you.
The company has been in the business of print on demand for over 20 years, making it one of the first companies to take on this business model.
So, by working with CustomCat, you can rest assured that the company is reliable and will offer the best services.
CustomCat ships over 40 thousand orders daily and has partnered with more than 50 thousand businesses in the world.
It also offers plenty of integrations to make partnering with it much easier and plenty of other appealing features that we will further discuss.
Inkedjoy vs. CustomCat: A Complete Comparison
To see which print on demand supplier is the right choice for you, we have outlined a thorough comparison of Inkedjoy and CustomCat. From pricing and product categories to printing techniques and integrations, we have covered all of the different factors that go into deciding which supplier to partner with.
Inkedjoy

Customcat

Ease of use

Product Category

1500+
300+

Pricing

Free to use
3 pricing plans

Features

Mockup generator
Quality control
Inventory management
Bulk design
Mockup generator
Quality control

Worldwide shipping

Branding

--

Integrations

Shopify
Woocommerce
Etsy
Shopify
WooCommerce
Etsy
BigCommerce
CustomCat API
CSV Upload

Printing methods

Direct-to-garment printing
Heat transfer printing
Iron-on transfer
Direct-to-garment printing
Direct-to-film printing

Customer Support

Live chat
Email support
Help center
Ease of Use
When choosing a print on demand company to work with, you want to choose one that will be easy to use and has a user-friendly platform. When it comes to ease of use, both Inkedjoy and CustomCat print on demand are good options.
Inkedjoy has a well-designed website, and the platform is easy to use and link to your own store.
To start off, you have to register an account. Then, you can use Inkedjoy's design toolkit to create or upload existing designs. After that, you can select products from the all-products catalog and connect the platform with your store.
Importing products into your store is also a straightforward process, and as soon as you make a sale, the details are auto-synced with Inkedjoy.
CustomCat is also relatively easy to use and has a simple process.
To begin with, you have to create an account and then connect your store to the platform. You can do this through CustomCat's direct integration options.
The platform's website has a simple layout that is easy to follow and use, with all the features and options displayed in a user-friendly manner.
After linking your store to CustomCat, you can upload your designs and choose the products you want printed on.
Next, you export the products to your store. Once customers place their orders, the details for the orders are automatically updated for CustomCat to start fulfilling.
Depending on the niche of products you wish to sell on your print on demand store, it is important to consider what product categories your print on demand supplier of choice has in their catalog. You also want to choose a supplier that has high-quality products at a competitive price.
Inkedjoy has a very large product catalog with over 1500 products to choose from. It also has a lot of categories, including women's clothing, men's clothing, shoes, children's and baby products, bags, accessories, home décor, and more.
CustomCat's product catalog is split into 3 main categories: apparel, housewares, and accessories. Within these categories are about 300 high-quality white-label products for you to choose from, including t-shirts, hoodies, pillows, blankets, wall art, hats, footwear, jewelry, and more.
Pricing
Pricing is another important factor that comes into play when choosing a print on demand dropshipping partner. If you are a new business, then pricing plays a very important role in determining your success.
Inkedjoy is a free-to-use platform with no signup fee or monthly subscription fee. However, you do have to pay a fee for additional features outside of basic printing and order fulfillment, such as Inkedjoy's branding services.
CustomCat has 3 plans you can choose from. Creating an account is free, and the first plan, CustomCat Lite, can be used entirely free of cost. CustomCat Lite comes with direct fulfillment services and unlimited production creation.
Then there is the CustomCat Pro plan which costs $30/month. The Pro plan comes with a 20%-40% discount on the entire product catalog, and other added benefits like core product pricing on the popular products, early access to new products, and so on.
Finally, there is the Enterprise plan which includes everything in the Pro plan as well as a 30% discount on all products, a dedicated specialist for your brand, and API access.
Features
The more additional features a print on demand company can offer you, the better choice it might be, depending on your need for those features.
Inkedjoy is a print on demand platform with various additional features that you can benefit from. Some of these features include inventory management, quality control, one-click batch design, and brand-building services, and more. These features allow for a more streamlined and efficient print on demand process.
CustomCat offers some helpful additional features like the mockup generator and design tools. These features allow you to see what your finished design will look like before you finalize it. You can also use CustomCat even if you do not have an online store, which is especially helpful for print on demand beginners.
Shipping
Shipping cost and shipping time are one of the main costs borne by your customers and can influence the customers' decisions to order from your print on demand business. Therefore, you want to choose a print on demand supplier that can offer you cheap shipping and short shipping times.
Inkedjoy provides a shipping guarantee to all customers and usually ships products to the USA, Europe, New Zealand, and Canada between 30 to 40 days.
For orders shipped to South America, the Middle East, India, and Africa, shipping takes about 60 days. In case of order delays, Inkedjoy offers refunds to its customers.
For shipping methods, worldwide delivery is supported by Netherlands Post and Singapore Post. There is also UK Express, USPS, Canada Post, and Australia Post. The shipping fee depends on the shipping method you select.
CustomCat offers shipping worldwide, with the exception of a handful of countries. There are also various shipping methods to choose from, such as Economy, Ground, Two-day, Overnight, and International shipping.
Each of these methods has different shipping times and associated costs. While shipping within the US is usually quick, shipping to other countries can take between 1 to 4 weeks.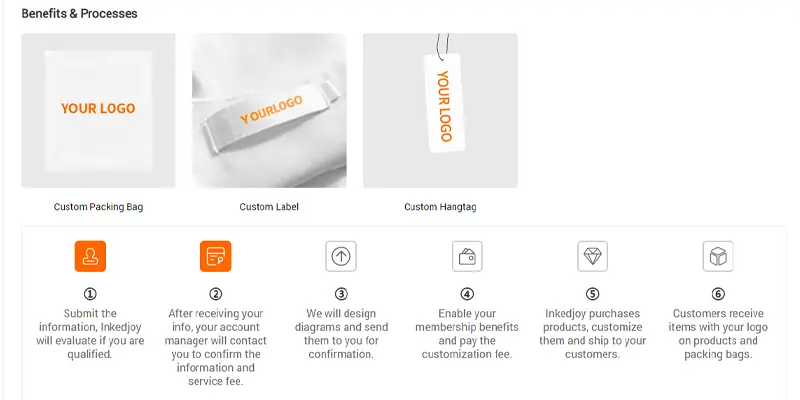 Custom packaging and branding is an important feature that print on demand businesses, especially new ones, look for. Branding services can help you distinguish your brand from the competition and create brand recognition for your business.
Inkedjoy offers branding services and has helped create brands for over 200 dropshipping and print on demand businesses. The branding service includes custom packing with custom packing bags, custom scotch tape, custom labels, and custom hand tags.
CustomCat, on the other hand, does not offer any custom packaging or branding services at this time.
Integrations
Integrations allow you to partner with a print on demand supplier from your already existing store on different platforms. Without integrations being offered, you would have to create a separate store to work with a supplier. Both Inkedjoy and CustomCat print on demand offer several integrations.
Inkedjoy

: Shopify, Etsy, and WooCommerce
Customcat

: Shopify, Etsy, WooCommerce, BigCommerce, CustomCat API, and CSV Upload
Printing Technologies
As print on demand gains popularity worldwide and more and more printing technologies become widespread, many print on demand suppliers offer multiple printing technologies.
Inkedjoy

: Heat transfer printing, Iron-on transfer, Direct-to-garment printing
Customcat

: Direct-to-garment printing, Direct-to-film printing
Customer Support
And lastly, customer support is another important consideration when choosing a print on demand supplier to work with. Proper customer support can help you smooth out any problems you come across and clear up any questions or concerns you might have.
Inkedjoy has great customer support through email support and live chat. CustomCat, on the other hand, has fewer customer support avenues and only offers its help center for support.
The Final Thoughts: Inkedjoy or CustomCat
Now that we have gone over our complete Inkedjoy and CustomCat print on demand review, we hope you will better understand which of these companies you want to work with. In general, if you want to make high-profit margins from competitively priced products and a large product catalog to work with, we recommend you choose Inkedjoy.