Elevate Your Etsy Store with 6 Top Print-on-Demand Partners
Ever since the ecommerce industry began, it has only seen unprecedented growth. Undoubtedly, it is a great way for anyone wanting to start their own business to hop on the bandwagon. Among the several ecommerce platforms, Etsy is one of the pioneers and the biggest marketplace available.
Etsy stands apart from other platforms because it offers niche products. It emphasizes selling unique personalized products, which is what makes it so great for print on demand companies. Print on demand businesses can be a great idea for creative individuals looking to generate income from this marketplace. However, finding the best Etsy print on demand partners is a key decision for the success of your business.
The print on demand market is crowded with suppliers and manufacturers providing competitive products. Choosing the ideal manufacturer has become more difficult. You might need some time to consider every available Etsy integration alternative. However, we have made your job easier by listing the 7 best Etsy print on demand partners that will help guarantee the success of your business.
But first, let's discuss how to select the best Etsy print on demand partners before making the final decision.
How to find the best Etsy print on demand partners?
Owning your own designs and selling them via other manufacturers on Etsy is an excellent and acceptable business model. This implies that despite the fact the products you are offering are manufactured by other companies, the designs are yours. Hence, a variety of Etsy sellers have the option of collaborating with partners.
However, the success of your print on demand Etsy integration depends on the partner you collaborate with. The following are the factors you should consider before selecting the ideal partner for your print on demand Etsy integration.
1. Quality
Quality is among the most important factor in every business. Similarly, considering the quality of the products manufactured by your partner is crucial. The products you offer on your Etsy print on demand business must be of the finest quality.
While you may have complete control over the designs of your print on demand business, you rely entirely on your print on demand partner for the quality. To identify the ideal Etsy print on demand supplier or manufacturer who can satisfy your quality criteria, you need to conduct extensive research.
Always remember the quality of your products is what will encourage repeat customers. So, it is a good idea to try out a few product samples from the suppliers you've shortlisted.
2. Range of Products
A supplier that has access to some niche products could also be extremely helpful. This way, not only will you face less competition, but you also have access to come competitive pricing. The best method to establish a reputation and guarantee recurring business is to have niche items for every single one of your clients.
Furthermore, having extra options for products makes it easy to create seasonal offers, provide bundle discounts, and add product suggestions to increase sales .
This will enable you to test out new samples and keep increasing the product catalog on your online store.
3. Printing Methods
The majority of the top Etsy-approved POD suppliers offer merchants and entrepreneurs some comparable fundamental printing possibilities. However, your choices may be limited if you're seeking a brand-new item. Few known manufacturers have the necessary technologies to deliver the results you want. Find a supplier with a wide range of printing technologies if you desire maximum performance.
4. Cost of Products and Shipping
Pricing is just another element that can make or break your business. You need to choose a supplier whose pricing schemes match your plan. But it's not just that. Additionally, you require a service with some flexibility. For example, a reduction in bulk purchases can increase your earnings.
5. Shipping Time
Operating a dropshipping print on demand business, you won't have any control over shipment. Instead, your print on demand partners shall carry out these operations.
Sticking to the promised delivery date is essential to keep your customers happy. Pick a print on demand business that offers quick and efficient shipping.
Take the effort to find out if your chosen business has a center close to your target audience because the locations of the centers affect delivery dates.
6. Branding
If your print on demand partner offers branding services, the personalization of goods becomes easier. You can add your brand's logo, hangtags, labels, and much more. You will be able to create brand loyalty among your consumers, and it will only help you grow.
Moreover, repeat consumers make up over 40% of Etsy shoppers. They're more inclined to shop at your print on demand site again if you wow them with a great and unforgettable unpacking experience. An Etsy partner that could offer your branding services is also a factor to keep in mind.
7. Customer Service
One of the most accurate measures of a business's reliability is the standard of its customer care. Moreover, having prompt and dependable customer assistance will simplify the process for you to manage your company and help you concentrate on the things you do well.
Always make sure you are aware of the returns policies of your print on demand partner in case of any customer complaints. Since customer satisfaction is a top priority and these services should be offered to them.
8. Integrations
Lastly, the best Etsy print on demand partner should be able to integrate with the Etsy website. An Etsy integration will enable store owners to have a smooth experience with all procedures, like tracking and managing orders between platforms.
When you attempt to grow your business over time to reach new customers, having additional platforms integrations will also greatly simplify your life.
Now, let's move on to the best Etsy print on demand partners available to you and fulfill all the categories mentioned above.
6 best Etsy print on demand partners
1. Inkedjoy (EPROLO POD)
Inkedjoy is our number 1 recommendation for an Etsy print on demand partner, because it fulfills all the factors mentioned above.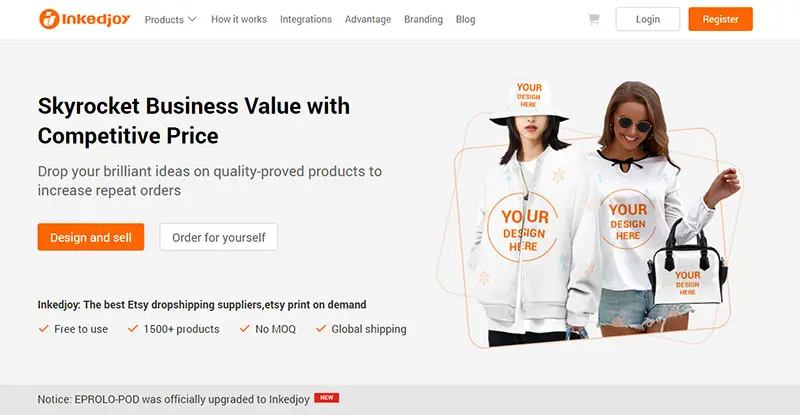 Inkedjoy is an excellent print on demand supplier. It collaborates with only the best suppliers in the world that guarantee high-quality products. This platform follows a comprehensive quality assurance procedure ensuring top-notch product quality, leading to satisfied customers.
Furthermore, it offers a wide range of more than 1500 products. You can find products within almost any market niche and choose to offer them on your online store. Additionally, using this print on demand dropshipping platform doesn't cost you a thing!
Another of Inkedjoy's selling points is that it offers competitive pricing compared to other well-known printing businesses. However, it doesn't mean that quality is compromised in exchange for a lower price.
Using its powerful design toolkit, you can easily harness your creativity and design engaging graphics on your product lines.
Inkedjoy's branding project is another perk you can benefit from. Along with personalizing items with your logo, you can also choose attractive packing bags, labels, and hangtags.
Moreover, Inkedjoy provides an extensive range of shipping alternatives appropriate for nearly all nationalities. The multiple shipping methods give you the option to estimate shipping costs, anticipate delivery times, and select their chosen shipment.
Customers may also rest easy knowing that Inkedjoy's shipping assurance will guarantee a complete refund in the event of any issues or delays.
The integration possibilities offered by Inkedjoy are super convenient too! You can easily integrate your online store with Etsy and other ecommerce platforms like WooCommerce and Shopify. That's not even the best part. You can track your orders via the platform, which makes Inkedjoy the best Etsy print on demand platform!
2. Printful
Printful comes in second on our list of best Etsy print on demand partners because of its POD product catalog and easy integration.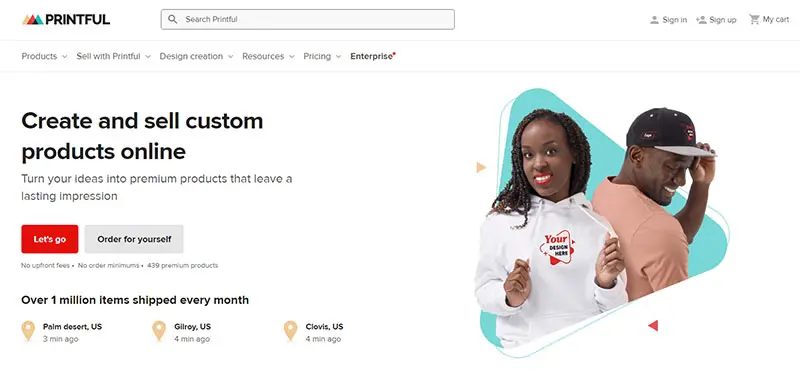 Printful has a network of distribution centers spread throughout Europe and North America and partner services in Australia and Japan. This enables it to deliver approximately 80% of orders to the same area they were bought in. This significantly limits shipping charges while maintaining faster delivery times.
However, Printful offers a less extensive range of products as compared to Inkedjoy and at a greater price tag.
3. Printify
Printify was established in 2015 with funding from Silicon Valley investment firms. The firm links you with the biggest community of print suppliers from over 100 countries and regions.
They offer more than 750 products for businesses at different stages. They also have a specific pricing tier for each. This enables you to compare rates and shipping costs and freely choose the most suitable solutions for your company's requirements.
4. Merchize
Merchize is distinguished by its comprehensive print on demand services and ready-made storefront platform.
They offer about 400 products and several printing options, including laser cutting, UV printing, direct-to-garment printing, etc.
With Merchize, You can easily handle orders across several markets like Etsy or Amazon, and seamlessly synchronize and trace shipments.
Merchize offers an excellent storefront plan and charges $79 for a growing business and $299 for an established one.
5. Custom cat
Custom cat is another of the approved print on demand companies for Etsy. They offers a large variety of products, including apparel, houseware and accessories. You can take your business to exciting new levels.
However, it is preferable for people operating within the US. Custom cat has all its manufacturers and suppliers within America, and shipping to outside clients could be a hassle.
6. Shirtly
The last, but definitely not the least, on our list is Shirtly. With warehousing locations in Europe, North America, and Australia, this POD company is expanding its wings to even more locations.
As you can tell by the name, Shirtly specializes in shirts and includes hoodies, polos, tank tops, aprons, and more. The best part about it is the easy integration with Etsy and excellent customer care services.
How to improve your Etsy print on demand sales sales?
Following are some pointers to remember to increase your Etsy print on demand sales :
Collaborate with a reliable partner like Inkedjoy.
Offer Multiple payment options.
SEO descriptions and titles
Advertise your listings
Use tags wisely
Optimize product images
Place products in relevant attributes and categories
Offer free shipment
The right pricing
Offer round-the-clock customer service.
Optimize your Etsy print on demand store
Promote your Etsy print on demand store
FAQs on Etsy print on demand
Q1: What are the best-selling print on demand products on Etsy?
It is recommended to start with popular print on demand items like T-shirts, mugs, canvases, and wall art. Several print on demand suppliers are able to produce and deliver these goods. They can ensure sales growth for your POD-integrated shops because of the huge demand. These are a few print on demand products that sell best on Etsy:
Accessories: face masks, phone cases
Clothing: hoodies, t-shirts, sweatshirts
Home goods: wall décor, pillows, blankets, mugs
Q2: What products can't you sell on Etsy?
Illegal items, drugs, hate products, and violent products are all against Etsy guidelines. You can refer to their sellers policy to find out about the types of items you cannot sell on Etsy.
Q3: Can you make great profits selling on Etsy?
Yes, once your online store starts gaining customers, you can pursue print on demand dropshipping as a full-time career.
Wrapping up
Print on demand dropshipping on Etsy is an excellent business idea and can be very lucrative; however, just like any other business, it does require hard work and effort. But with the best Etsy print on demand partner, your task will be much easier, and your goals will be more attainable.