Print on Demand Companies Comparison: Inkedjoy vs Printful
Printing on demand is becoming increasingly popular in recent times due to people asking for custom designs on their items of choice, which are typically clothes, such as t-shirts, hoodies, and tank tops.
If you're looking to start a low-risk business with minimum capital and investment, you may want to offer print on demand services, which will likely garner a lot of positive attention from the public, especially if your products are high-quality. On demand printing options have made it easy for small businesses to capture their target market while specializing in specific niches like anime designs, specific texts, and much more.
How this business works is simple. You get in touch with a reliable supplier who typically sells white-label products, allowing you to incorporate custom designs on these items, which are then sold under your business brand.
Inkedjoy is an emerging print on demand company that is competing very efficiently with other established printing companies in the market.Although it offers similar services as others, its products are more diverse and its shipping process is very efficient, making it possible for customers from around the globe to receive their orders quickly.
You may be wondering how it compares to Printful, which is more established but offers less diversity than Inkedjoy. Let's take a look.
What is Print on Demand and POD Supplier?
Print on demand businesses involve printing designs chosen by customers through websites or stores, helping them assign the actual role of digital printing, order fulfillment and shipping to the supplier, who is experienced in handling these orders.
A print on demand company is aligned with a supplier that sells white-label items, allowing customers the option to customize their products according to their preferences and business owners to sell them under their brand.
There are many advantages of choosing a print on demand ecommerce business model, which is identical to dropshipping, permitting business owners to delegate the major responsibilities to a third-party supplier. The print on demand dropshipping suppliers provide goods in bulk or as individual orders, manufacturing the products in warehouses and selling them to customers directly.
You can create products easily and quickly, your shipping process is delegated to the supplier, and minimum investment is required, which leads to lower risk.You may also encounter some difficulties, which are typical if you are running this business model for the first time, such as finding the right supplier for the location you are looking to sell in.
By choosing the right supplier, you ensure that your end of the business process is simple and hassle-free, which is something to keep in mind when looking to make money using print on demand services.
Two excellent options you can choose are Inkedjoy and Printful, which make the process much easier for you since all they require is an order on your store, letting them quickly print on the product of choice and ship it directly to the customer.
Inkedjoy vs. Printful: Overview
Inkedjoy Overview
Inkedjoy helps you improve your business value by choosing the highest quality products at competitive prices, helping you receive several repeat orders since your customers are fully satisfied with what they receive.
You can choose from a catalog of over 1500 products, which are likely to fall in several target niches, allowing you to find the right items to advertise for your Shopify or other ecommerce stores.You can use your customer's design and input it onto a particular item on the website, which helps in previewing the appearance before sending it forward for digital printing.
This company has an extensive quality assurance process that constantly tests fabrics and other product materials for durability and overall quality, resulting in customer satisfaction. If you're working closely with this company, you just need to send them the client's design preference, and they will adjust it onto the item correctly.
In addition, It's extremely simple to connect your Shopify, WooCommerce and Etsy store with Inkedjoy, making it possible to import products easily and sell them for a profit.All you need is to start receiving orders, and Inkedjoy will use its auto-sync feature to begin the printing and shipping process.
Printful Overview
Printful is slightly different from Inkedjoy but has a similar process that makes it easy for you to sell custom products without worrying about inventory stock and upfront costs.
If you're looking to work with Printful, you can sign up easily and set up the process by following simple steps that allow you to select a range of apparel products and accessories of up to 419.

Your customers will receive the products within 2 weeks in most locations, making this company worth considering for your business needs.
A major limitation is that they only sell apparel pieces and accessories, which is not as diverse as Inkedjoy, which has a wide variety of products to choose from.
Ease of Use
Inkedjoy Ease of Use
Inkedjoy is a print on demand and dropshipping platform asking for no registration fee to use. The platform permits you to easily browse through more than 1500 products that fall into various categories and niches and lets you pick the ones that best fit your business needs.
You can make use of their powerful designing toolkit to channel your artistic flair and create captivating designs on the products of your choice, which is fairly simple to accomplish.
Using their design features, it is easy to come up with beautiful designs and even upload your own pictures, enabling you to incorporate texts and images onto various products and items.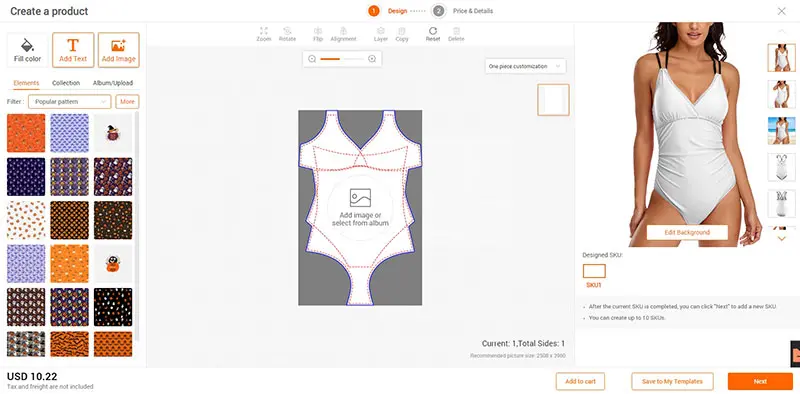 Connecting the store and importing the products can be accomplished with a single click, making it possible for you to start earning quickly and making profits.Their auto-sync features finalize the digital printing process quickly and allow the orders to be shipped to your customers directly, making them an excellent printing on demand company to choose for your business needs.
Printful Ease of Use
When comparing Printful and Inkedjoy, you will notice that they both follow similar procedures for shipping the products directly to customers after finalizing the designs.
You can connect your ecommerce platform directly to Printful, which lets them sync with your store and review the orders you receive.
Listing and designing products have never been simpler since Printful has a unique Design Maker that helps you design your pieces of apparel according to your preferences and experiment with unique visuals that customers will like.
After making a sale through your ecommerce platform, the order reaches a fulfillment center, letting Printful finalize the process by printing, packing, and shipping the items directly to the customer under your brand name.
Product Category
Inkedjoy Product Category
Inkedjoy is perhaps the most versatile printing company due to its extensive product catalog, which includes items across various categories.Some of these product categories include hoodies, dresses, swimsuits, shoes, kids' clothing, pet supplies, hats, home decoration items, and many more.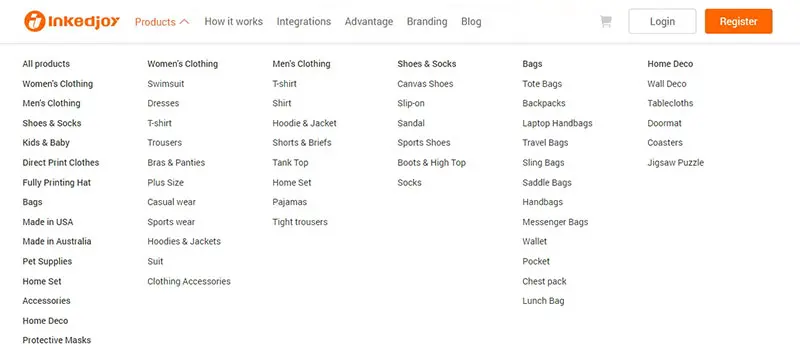 If you're looking for a range of products to print custom logos, texts, designs and more, you can easily find the right item for your needs.
Additionally, the products are made from high-quality materials because their supplier is the very best, letting customers print their design of choice on the product they like.
Since Inkedjoy guarantees customer satisfaction, storeowners can put their minds at ease when choosing this on demand printing company for their purposes.
You can visit their website to view their full product catalog, which can help you reach a decision regarding your target market if you're unsure which niche to target for your business.
Printful Product Category
Printful is an excellent option for specialized products like apparel and accessories, which may set them apart from the competition since it's easier to ensure optimal product quality if you're looking for clothing and other accessories, like pillow covers and shoes.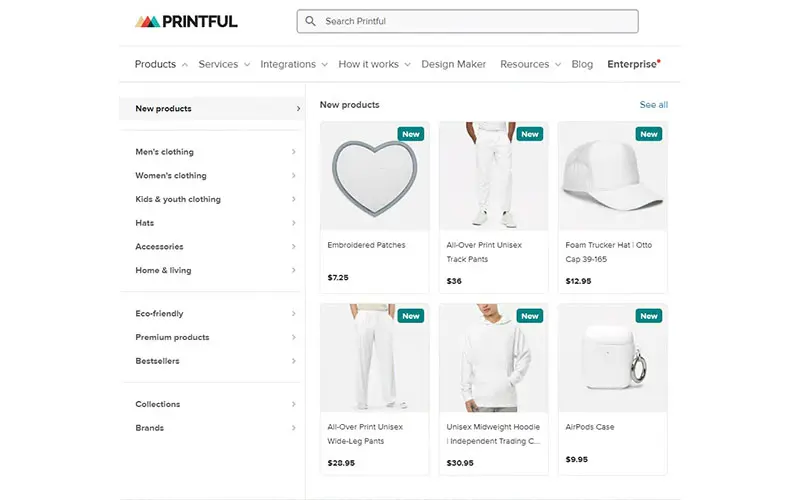 Printful has more than 335 high-quality products to choose from, which can be shipped locally and nationally, making it an enticing option.
Pricing
Inkedjoy Pricing
You can easily find affordable items with excellent design options for various products on their website, making them an excellent printing company to work with.
Just looking at t-shirts, you can expect to pay between 5 USD and 10 USD for most items, which is quite affordable for many customers looking to buy the nicest designs available.
One of Inkedjoy's hooks is its competitive pricing compared to other established printing companies, ensuring that it doesn't sacrifice quality for a cheaper price.
This goes to show how dedicated it is to its mission of providing customers with exactly what they want and offering the cheapest prices for the highest-quality products you can find anywhere.
The element of competitive pricing is making it possible for Inkedjoy to establish itself very quickly in the market and compete with other key players with ease.Their competitive pricing sets them apart from the competition, making them an excellent company to work with.
Printful Pricing
If you visit Printful's website, you will find that their products are more premium and expensive, which may be a deal-breaker for you if you're looking to capitalize on quick purchases from customers.Printful's average product prices are between 15-30 USD, excluding shipping fee.
Its products cost more than most competitors due to its global consumer reach and product reliability.
Although it is more established in this regard, cheaper options, such as Inkedjoy, are available offering similar quality, permitting new market players to compete at a high level and convert a percentage of Printful's customer base to their own.
Branding Service
Inkedjoy Branding
Inkedjoy has worked closely with more than 200 dropshipping merchants to provide excellent opportunities for building their brands and growing their businesses.
You can boost your sales by choosing Inkedjoy as a reliable option, which offers plans for beginners and experts, who can either pay 19.99 USD or 99 USD for a year or lifetime.Some branding advantages it offers include custom labeling, hangtags, packing bags, gift cards, and more.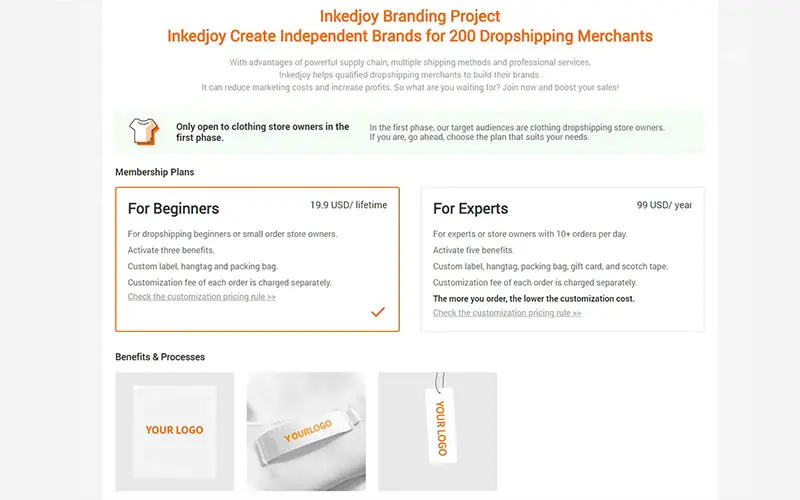 If you're subscribing to the beginner package, you can easily submit your logo and receive the design diagram, making it possible for you to enable the membership plan after paying the customization fee.
Once you become a member, you can benefit from Inkedjoy's buying process, which makes it possible to browse through a diverse selection of products that are easily customized according to customer preferences and shipped directly to customers from around the globe.
The customers will receive their orders within the timeframe and see your logo and branding on the items and packing bags, helping your business to grow.
The experts package follows a similar process but has more benefits that help you grow your business, such as sending customers a custom scotch tape and gift care for their purchase.
Printful Branding
Printful has excellent branding options for business owners, allowing them to showcase their brand as soon as the customer receives their order.It also adds colors and character to the packaging, offering an aesthetic appeal that hooks customers in, associating your brand with a positive experience.
Printful allows you to select the perfect packaging option, such as interesting designs, wild colors, and eco-friendly mailers.The packing is visually enthralling, resulting in customers sharing their orders on social media platforms, resulting in superior branding for you as a store owner.
You can pick your packaging from a supplier and send Printful the custom packaging you want, permitting it to pack the orders it receives and ship them to customers from around the globe.
Shipping And Order Fulfillment
Inkedjoy Shipping And Order Fulfillment
Inkedjoy uses the dropshipping business model and has extensive shipping options that are relevant for different countries, permitting customers the chance to calculate their shipping fees, determine the delivery time, and choose their preferred shipping method.
The process is as follows: choose the shipping location, read the shipping guarantee to put your mind at ease, read the terms and conditions for details, determine the shipping method, consider the delivery time and calculate the shipping fee.
Different products available at Inkedjoy are either made in China, the United States, or Australia, which means that the items chosen by your customers will be sent from the respective warehouses in each country of origin.
Inkedjoy's shipping guarantee ensures a full refund if there are any difficulties or delays, which puts your customer's minds at ease.
If any of your customers encounter shipment delays, they will be refunded within 40 days, depending on the season.
The main shipping methods are through UK express, US express, CA express, AU express, Netherlands Post, and Singapore post.
Depending on their location, customers can expect to receive their products in less than a week or 14 days.
Printful Shipping And Order Fulfillment
Printful also follows the dropshipping business model and allows you to easily view the shipping rates according to your shipping location and choose the method that's most convenient for you.
Their process is fairly simple: the fulfillment period for an order takes 2-5 business days, the shippingtime is determined according to product availability, and the delivery is scheduled and reaches the customer on time.
You can choose different shipping options if you're ordering for yourself or selling online, and see more details on product catalog and shipping calculations to feel secure when dealing with bulk orders.
The shipping speed at Printful follows a similar pattern, where minor delays may be possible due to busy seasons.
Printful ships products globally, which means customers will receive your orders within 14 business days, depending on where they live.
Depending on what you order, you may receive your products in more than one shipping, which is to be expected since they are individually wrapped and packaged.
If you haven't received your order on time, you should wait one or two days before getting in touch with the customer support team, which will guide you through the process.
Integrations
Inkedjoy Integrations
Inkedjoy offers integrations with three main ecommerce platforms: Shopify, Etsy, and WooCommerce.
These are excellent options for small business owners, creative artists, and large retailers, permitting easy integration with any of the ecommerce platforms according to your business model.
If you're a designer or business owner looking to work with Inkedjoy, you can put your mind at ease since they offer free print on demand dropshipping services that are easily integrated into your business model.
Once customers place an order through your ecommerce store, the printing and shipment process begins automatically, resulting in an optimized integration.
Customers are also allowed to track their orders, which is a major advantage when working with Inkedjoy.
Printful Integrations
Printful has a detailed integration page on its website, which gives information on syncing various ecommerce platforms.
Shopify is an excellent choice for small businesses, Etsy is great for beginners and artists, and WooCommerce is preferable for developers and large retailers.
You can browse various options for optimal integration, such as price, free to start, setup time, live shipping rates, and more.