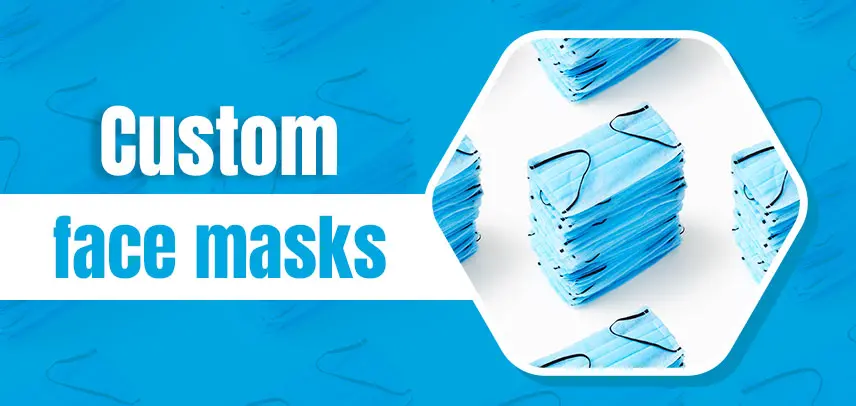 8 Superb Face Mask Print on Demand Companies
Print on demand dropshipping ventures are highly profitable due to the popularity ofcustom print products. It is easier than ever to create custom designs on different items and advertise them on your e-commerce store while catering to a particular niche. Custom face masks are a growing contributor to the health and beauty care dropshipping niche, allowing people to implement their favorite designs on high-quality face masks.
Let's explore some details of print on demand dropshipping and rank the top 8 face mask print on demand companies.
What Is print on demand?
Print on demand businesses involve finding a dealer, contractor, or supplier selling white-label items and customizing them with designs to sell to customers. You achieve this by setting up an online store on platforms like Etsy and Shopify and selling the products under your business name while offering unique designs.
What separates print on demand businesses from others is that you don't buy the products before selling them, meaning you save money on inventory costs.
When offering print on demand services to customers, you can safely rely on your supplier to handle the order details, making it a simpler alternative to many retail businesses.
Customers can place orders within a few clicks by visiting your e-commerce store and receiving their products in a few days.
How to Custom Face Mask with Print on Demand?
Once you've selected a plain face mask by choosing the material, you can implement your own designs by browsing through the library for a complete catalog of images.
Using online tools, you can adjust the image as you see fit onto the face mask, depending on your preference. The dyeing process is called dye-sublimation, which ensures the print does not fade away with time.
You must carefully implement the design onto the printable area, so it remains adequately visible. Most print on demand websites have a design guide to help you through the process, ensuring you download the files in high resolution.
After attaching the design to the face mask template, you can finalize your order and move on to the next step.
Is Dropshipping Custom Face Masks Worth it?
Custom face masks serve protective purposes against viruses and bacteria in the atmosphere, keeping you healthy and safe from invasive foreign particles.
2023 data indicates that the health and beauty dropshipping niche reached roughly $600 billion in total revenue. Future market predictions have estimated that this value will go up to $670 billion, indicating a growing trend. Since custom face masks are significant contributors to the industry, they will continue being a profitable business venture in the years to come.
Face masks print on demand are also user-friendly and offer high durability, making them easy to use, reuse, and wear comfortably.
Since you can choose your custom print, they are also a fashion accessory and come in various types, allowing you to select the perfect option for your needs.
Best Face Mask Print on Demand Companies
1. Inkedjoy
Inkedjoy provides face mask print on demand services to help you customize designs on the face mask of your choosing. Its competitive pricing sets it apart from the competition, ranking it number one on this list of top face mask print on demand companies.
By browsing through Inkedjoy's diverse catalog of white-label products, you can choose between more than 2500 products to find the perfect option for your preferences. For example, aside from face masks, they also sell hoodies, t-shirts, swimsuits, shoes, hats, home decoration items, and much more.
Inkedjoy offers branding services to store owners looking to increase their sales and boost their brand name. They offer beginner and expert plans, depending on where you are in the process.
Its user-friendly functions enable business owners and customers to easily list products in their stores and choose the perfect designs in a few simple steps and clicks. This means you can save time and integrate your store without any hassle.
Select an item from the product catalog, use online design tools to create something exclusive, and connect your store and import the products. You can then rely on them to safely fulfill all orders. Customers' shopping carts will display the order sample, and they can finalize it when it looks perfect.
The order fulfillment process is automated. So, once your e-commerce store receives orders, Inkedjoy will handle everything, including auto-syncing, print checking, packing, and shipping. Its shipping process supports worldwide delivery and offers fast shipping methods to any location.
2. Printify
Printify offers face mask print on demand services to help shop owners find reliable suppliers and ship their newly branded products to customers around the globe. You can easily find fabric face masks made of high-quality polyester and choose your favorite designs. This is done either by uploading an image onto the design tool or choosing from a variety of existing images on Printify's website.
Printify is well-known for its quality of products and offers mockup generator services to help you create the perfect design for your needs.
Its pricing is fairly competitive, and its 24/7 customer service makes it easy to track your order and address any problems you face.
3. SPOD
SPOD helps you design the perfect face mask by uploading your custom designs and personalizing your face masks according to your preferences.
You can avail of more than 50,000 designs to choose something you like and increase the design options you provide to customers.
SPOD offers face masks made of two-ply cotton that are incredibly comfortable to wear and easy to reuse due to the fabric's washable quality.
Its quality control sets it apart from many other competitors, and its low return rate of under 1% speaks volumes about customer satisfaction.

4. REDBUBBLE
Redbubble has been around for many years and caters to more than 700,000 artists around the globe, helping them make custom sales. When choosing its face masks, you can rest assured that the quality is optimal, ensuring customers are happy with the products and designs of their choosing.
Its shipping and fulfillment time varies according to your location, but you can opt for fast shipping methods to receive your orders early. However, these come with added costs, but the customer service makes it easy to navigate your order.
If you need a refund due to a faulty product, you can reach out to the support team to help you return your face mask as long as it's within two weeks of the purchase.
5. CUSTOMCAT
Customcat has detailed design guidelines to help individuals choose the best designs for their face masks. You can easily choose colors and texts to create something completely new and enjoy the high product quality made from nylon spandex.
You can expect to pay roughly $6 for a face mask, and if you're looking to sell them on your e-commerce store, add a price margin that's profitable for your business.
Its shipping and fulfillment time is fairly fast, setting it apart from the competition. However, its refund policies are lacking because they only replace defective products and do not deal with order problems.
6. Printful
Printful is an excellent print on demand company that offers a variety of printing options dedicated to hundreds of products, such as face masks, t-shirts, kids' clothing, and more.
Its shipping process is similar to many others, and orders are typically ready for delivery within five days.
When creating unique designs using Printful's online design tools, you can safely get your creations ready for sale within a few clicks. Its integration options are one of the best, catering to many e-commerce platforms.
Entrepreneurs looking to scale their businesses can choose between beginner and expert branding services on Printful's website to find the best package for their needs.
7. AOP+ Easy Print on Demand
This company offers reliable print on demand services to help customers find the best white-label products on the Internet. Its printing process utilizes dye sublimation to print unique designs onto face masks and other products, ensuring they are wash-resistant and easily reused.
Some aspects that set it apart from other print on demand companies offering custom face masks print include discounts, custom packing slips, unique branding packages, and much more.
It has a monthly fee ranging from $11.99 to $19.99, allowing shop owners to test their ideas and sell their unique products to customers throughout the world.
8. 4imprint
This company not only offers custom face mask prints but also has a range of face mask accessories, such as straps and shaped face masks, to suit individual preferences.
You can also expect to find unique face mask ear hooks and full-face covering options to choose the perfect product for your needs. The price range varies between $0.60 and $6, allowing you to find something within your budget range.
4imprint frequently has sales and also deals with low-quantity orders to provide excellent service to its customers. Its express shipping methods will ensure you get your hands on the perfectly designed face mask as quickly as possible.
Final Thoughts
If you're looking to implement your custom designs on high-quality face masks, you should try Inkedjoy as your go-to print on demand company. Its customer reviews are largely positive, and you can easily integrate it with your ecommerce store in just a few clicks.
Other custom face mask companies also offer good deals but have some drawbacks that make Inkedjoy stand out as the top choice. Face mask print on demand continues to be a growing niche in the dropshipping world, so it's very likely that it will stay relevant and profitable in the years to come.