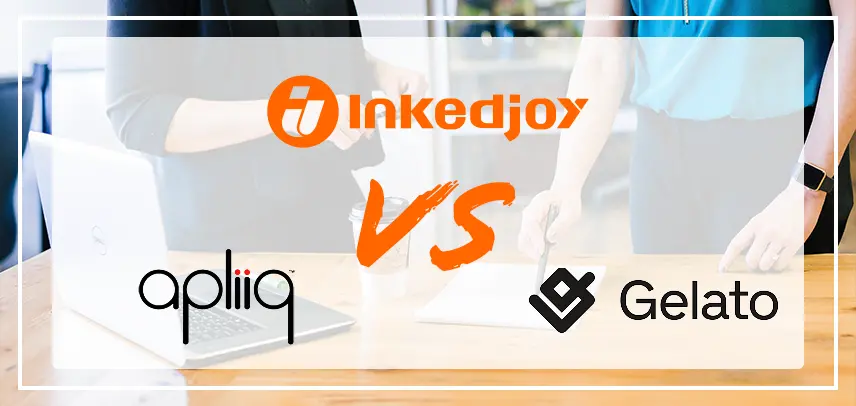 Inkedjoy Vs. Gelato Vs. Apliiq: Which Print-on-Demand Platform Is Worth the Investment in 2023?
Print-on-demand services have emerged as game changers in the world of dropshipping. They enable entrepreneurs to turn creative ideas into physical products without dealing with inventory management. This post looks at three popular print-on-demand platforms: Inkedjoy, Gelato, and Apliiq. It can assist print-on-demand business owners in making educated investment decisions by evaluating their features, pricing, and overall worth.
InkedJoy: Print-on-Demand Overview and Review
Rating on Shopify App Store: 4.6
Inkedjoy is one of the most prominent
print-on-demand platforms
in the industry. The platform offers numerous solutions catering to different entrepreneurial goals and demands. Moreover, Inkedjoy's free platform service is the ultimate prize for budget-conscious entrepreneurs or startups. Hence, businesses can maximize revenues with the same quality services without additional costs. This feature alone makes Inkedjoy a well-sought-after option for print-on-demand business owners.
Besides the free platform, Inkedjoy's extensive
product catalog
is another appealing service feature. From modern apparel and accessories to home décor items, businesses can offer various unique items catering to a large customer base. Thus, this wide range and diversity helps businesses align their product listings well with changing market trends. Moreover, being attuned to customers' preferences makes them feel seen and heard, increasing customer happiness.
Inkedjoy's commitment to excellent craftsmanship and product quality is one of its highly appreciated features. The high-quality and latest printing methods and techniques ensure meeting customer's expectations. Fulfilling quality commitments drastically enhances customer loyalty and satisfaction. Moreover, word-of-mouth marketing is a powerful force that can help businesses attract new customers and keep existing ones returning for more
Therefore,
Inkedjoy
is a popular choice amongst today's print-on-demand entrepreneurs. With affordable yet quality products and printing techniques, businesses can ensure customer satisfaction comprehensively. Where scalability and dependability are important for a business, Inkedjoy is an ideal print-on-demand partner.
Gelato: Print-on-Demand Overview and Review
Rating on Shopify App Store: 4.5
Gelato is another popular print-on-demand supplier known for its quality products and printing methods. The platform's unique selling point is its global shipping with timely deliveries, thanks to its 32 fulfillment centers spread worldwide. Moreover, Gelato aims to streamline international shipping to help businesses while reducing carbon emissions. Hence, with this platform, businesses can enjoy affordable global reach.
Nevertheless, Gelato's platform pricing remains an issue for numerous starting businesses in the print-on-demand industry. The platform's excellent services are available through subscription plans at various costs. Consequently, businesses looking for budget-friendly options might find this feature of Gelato as a hindrance. Besides, Gelato's product catalog is limited to other print-on-demand platforms, reducing a business's chance to diversify.
Gelato's product pricing is competitive in the industry. Yet, compared to other print-on-demand services, these prices can be on the spectrum's higher end. Thus, if a business's ideal customer base is high-end, too, Gelato is an ideal partner. Many businesses also justify these exorbitant products and printing prices with easy international shipping.
For any print-on-demand business, durability and aesthetics are crucial for satisfied customers. Focus on these aspects creates trust and keeps the product long-lasting and appealing. With Gelato's professional-grade printing quality, businesses can guarantee these quality measures to their customers. Subsequently, businesses can keep their brand's reputation consistent with this partnership.
Apliiq: Print-on-Demand Overview and Review
Rating on Shopify App Store: 4.7
Apliiq has a unique position in today's print-on-demand industry as it's known for its personalization features in fashion and apparel. Hence, this platform can be seen as a quality and original clothing pioneer. It offers various printing options, including pre-designed clothes and embroideries. Moreover, businesses looking to cater to customers in the clothing industry will find Apliiq highly appealing.
Apliiq's focus on clothing products has made this company a strong competitor in the print-on-demand fashion market. Businesses can offer various fabrics, designs, and printing solutions. In addition, print-on-demand entrepreneurs can attract women, men, and children with the separate product categories Apliiq offers. The platform also offers eco-friendly products catering to eco-conscious customers.
However, the biggest drawback of Apliiq is its limited product offering. In today's competitive world, print-on-demand businesses seek a single supplier for multiple niches. With Apliiq, businesses can't cater to the beauty, healthcare, or consumer electronics market. Thus, print-on-demand business owners must evaluate their long-term goals wisely before opting for Apliiq.
Comparative Analysis: Pros and Cons of Inkedjoy Vs. Gelato Vs. Apliiq
Print-on-demand business entrepreneurs must negotiate many alternatives when opting for a print-on-demand (PoD) platform for investment. Let us rigorously compare Inkedjoy, Gelato, and Apliiq to aid in this vital decision-making process. We concentrate on the critical elements most important to businesses looking for the best value.
Platform Fee
Inkedjoy: Inkedjoy is unique because it does not charge additional fees to use its site. Thus, it is a wonderful option for those wishing to start their PoD business without initially investing a lot of money.
Gelato: Gelato has a free platform available that allows businesses to pay for the products when they receive an order. However, the additional plans, including Gelato+ @$14.99/month, Gold @99/month, and Platinum with bespoke pricing, can be expensive.
Apliiq: Apliiq's platform is free to use, and its pricing is transparent; there are no hidden costs. This transparency lets companies know precisely what they're paying, which builds confidence and makes the platform more dependable.
Inkejoy: Inkedjoy distinguishes out owing to its diverse product offering. Its inventory includes more than 1,500 products, everything from apparel to accessories. It allows entrepreneurs to provide a wider range of products and attract more clients, making their firm more appealing to a wider audience.
Gelato: Gelato specializes in providing a wide range of apparel selections in their catalog. Gelato is an excellent pick if you are passionate about fashion and clothing. They specialize in this field, so you can construct a collection of smart and trendy apparel items to give your company a polished and fashionable image.
Apliiq: What distinguishes Apliiq is that they specialize in personalizing cloth. It means you can make one-of-a-kind products. They alter materials in unique ways to make your products stand out. It's especially appealing to buyers who seek something new and unique, distinguishing your items from the competition.
Product Pricing
Inkedjoy: Inkedjoy's choice not to charge platform fees provides them a price advantage. It allows them to maintain competitive pricing. It can result in lower costs for clients who purchase your items. Doing so can make your company more desirable to customers and allow you to stand out in the market.
Gelato: Gelato's pricing is affordable, which is made much more appealing by its ability to distribute items abroad without a hitch. If you want to sell to consumers worldwide, the benefits of hassle-free global shipping can be worth the somewhat higher cost, especially if it leads to happy customers.
Apliiq: Pricing for Apliiq varies based on how personalized you want your items to be. While this can result in varying costs, it is consistent with Apliiq's focus on providing unique and individualized things. Customers seeking one-of-a-kind items can consider the shifting pricing worthwhile in exchange for something that feels tailor-made, particularly for them.
Inkedjoy: If you pick Inkedjoy, you can use various branding options for a low extra price. Custom labels, hang tags, packaging bags, scotch tape, and gift cards are available. You can personalize the display of your items with these options, providing a personal touch that connects with your target audience.
Gelato: Choosing Gelato print-on-demand products gives you access to a white-label solution to design packaging, inserts, and labels. This tool allows you to build a uniform and professional brand image across your items, increasing brand awareness and consumer loyalty.
Apliiq: Apliiq's branding strategy goes above and beyond the norm. It lets you create items with private-label apparel options with bespoke labels. This innovative approach appeals particularly to clients looking for items that stand out from the crowd and are one-of-a-kind.
Shipping Options
Inkedjoy: For worldwide reach, Inkedjoy offers numerous delivery choices. They send globally using Netherlands Post and Singapore Post, to the UK with UK Express, and inside the US with USPS, FedEx, DHL, and other well-known carriers. They also use Australian Post for shipments to Australia and Canada Post for delivery inside Canada. It's worth noting that their shipping times normally range between 30 and 40 days.
Gelato: Gelato works with over 40 logistics providers, including significant players like FedEx, DHL, UPS, and Royal Mail. Through their vast network, they can provide shipping reductions through their membership programs. This diversity of logistics partners guarantees that businesses using the platform have flexible delivery options and low costs.
Apliiq: Using USPS, Apliiq enables international shipping to 150 countries. They also provide free delivery on orders over $100 inside the United States. This worldwide reach enables firms to cater to a diverse international consumer base, while the free shipping incentive drives larger domestic order values.
Printing Quality
Inkedjoy: Inkedjoy assures high print quality on all of its goods. Customers have praised the platform's capacity to produce vibrant and attractive prints. The designs are fantastic and eye-catching, even on little goods like messenger bags. It's especially important for individuals who want to advertise their items on social media channels. As a result, it demonstrates Inkedjoy's dedication to producing visually appealing and attention-grabbing prints.
Gelato: The platform is recognized for its exceptional print quality. Gelato print-on-demand reviews laud the platform's superior printing standards. They can replicate pictures, artwork, and text with vividness, clarity, and integrity to the original designs. Moreover, the rigorous attention to detail and color accuracy is particularly notable. It helps to develop unique prints that accurately reflect the original vision.
Apliiq: Apliiq print-on-demand reviews suggest that its printing quality distinguishes the platform as a superior option. The platform's apparel goods stand out in terms of quality. The embroidered expertise of Apliiq gives a professional touch with clean and well-executed embroidery work. Furthermore, the prints demonstrate Apliiq's remarkable quality, making it a favored alternative for people looking for high-quality prints.
Inkedjoy: Inkedjoy gives businesses powerful tools to update bulk products at once. It makes producing bespoke items on a wide scale easier and less time-consuming.
Gelato: If you like clothing and mobile accessories, you'll love Gelato. They provide various design creation tools that allow you to modify the appearance of your garments and products. It's very useful for individuals who care about style and appearance.
Apliiq: Apliiq's design tools allow real-time designing and artwork upload. They specialize in novel techniques to alter the appearance of cloth. Hence, you can create items that are even more unique and distinct from what others are offering.
Why Inkedjoy Print-on-Demand Stands Out
In this competitive field of print-on-demand platforms, Inkedjoy stands out as a prominent contender. It's attracting attention and appreciation for various reasons that can contribute to your business's success too.
Cost-Effectiveness for Startups
One of the most remarkable features ofInkedjoy is its low pricing, which makes it ideal for startups and aspiring entrepreneurs. Inkedjoy significantly lowers the cost barrier to entry into print-on-demand by eliminating platform fees. This strategic decision allows individuals with limited finances to launch their entrepreneurial ventures without the burden of upfront costs. Moreover, it enables a more inclusive and vibrant online business market.
Wide Product Diversity
Inkedjoy distinguishes itself by providing a large and diversified product inventory that goes beyond the boundaries of standard commerce. The portal caters to a wide range of consumer interests, from fashionable garments to contemporary accessories, with over 1500+ products.
This complete suite of services enables businesses to investigate diverse market sectors and capitalize on new trends. Furthermore, they can adjust their product selection to match the ever-changing expectations of their target audience.
Impeccable Printing Quality
The consistent devotion to top-tier printing quality is at the heart of Inkedjoy's appeal. This focus guarantees that the items created through the platform meet and possibly exceed industry requirements. Hence, Inkedjoy efficiently cultivates a loyal consumer base that associates the platform with dependability and excellence. It produces aesthetically beautiful goods that are durable and faithful to the intended concept.
Versatile Branding Options
Recognizing the importance of branding in the e-commerce world, Inkedjoy provides various branding choices to ensure smooth brand integration. This adaptability enables firms to incorporate their distinct character into each product.
In addition, it maintains brand consistency across the board. Whether through unique packaging or discreet labeling, Inkedjoy's branding solutions improve professionalism and client awareness.
Robust Customization Tools
Inkedjoy provides comprehensive bulk customization solutions to businesses, easing the process of developing personalized items at scale. This feature increases efficiency and productivity by allowing firms to respond to particular client preferences while maintaining a high production tempo. Moreover, such simplified customization possibilities minimize operational complexity and increase revenue growth potential.
User-Friendly Interface
Navigating the complexities of an online platform is critical for smooth operations. Inkedjoy recognizes this need by providing a user-friendly interface streamlines the user experience. Intuitive navigation, simple categorization, and user-centric design all guarantee an effortless experience for amateur and experienced entrepreneurs. Hence, they can effortlessly navigate the platform, eventually saving time and increasing satisfaction.
Swift Turnaround Times
The guarantee of quick turnaround times demonstrates Inkedjoy's dedication to fast order fulfillment. This quick strategy guarantees that firms can respond quickly to consumer requests, reducing waiting times and increasing customer satisfaction. In the fast-paced world of e-commerce, speedy order processing can be a key distinction that adds to a company's overall success.
Global Shipping Reach
Recognizing the worldwide nature of modern business, Inkedjoy provides complete global shipping solutions to customers worldwide. This global accessibility corresponds to the goals of firms aiming to expand their market reach across regional boundaries. Thus, Inkedjoy opens the door to new markets and income streams by efficiently reaching out to foreign clients.
FAQs
1. How do I start a print-on-demand service?
To launch a print-on-demand service, you must select a platform, produce designs, and advertise your items.
2. What factors should I consider when choosing a PoD platform?
Consider platform prices, product diversity, printing quality, customization tools, and delivery options when choosing a print-on-demand platform.
3. Is print-on-demand profitable?
Yes, print-on-demand can be successful, provided you promote effectively and provide high-quality items.
4. Are there any hidden fees that I should be aware of?
Print-on-demand providers often charge extra shipping expenses for each product, clearly displayed on their website. Contact the platform's customer support and enquire if you don't locate this information when researching.
5. Where is Gelato print-on-demand located?
Gelato print-on-demand was first created in Oslo, Norway. However, the platform is now available worldwide.
Conclusion
In the world of print-on-demand, Inkedjoy, Gelato, and Apliiq each have distinct advantages. Specific business needs, financial limits, and target market determine the final decision. Thus, print-on-demand businesses can confidently pick the PoD platform that corresponds with their goals in 2023. However, they must thoroughly examine the comparative advantages and drawbacks to make an informed decision.