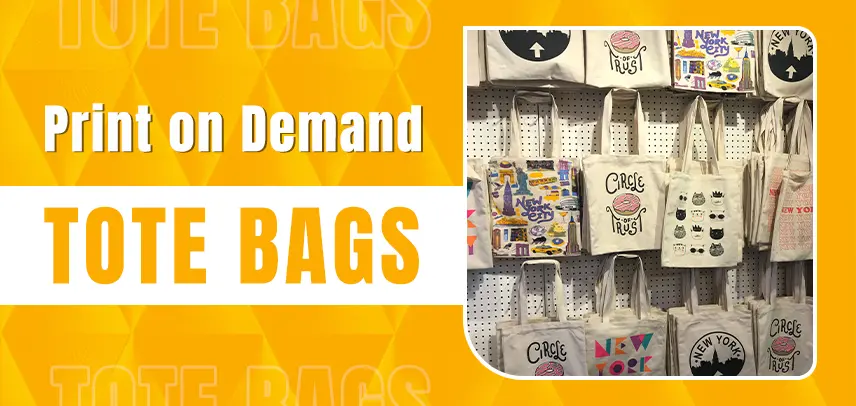 Print on Demand Tote Bags: The Ultimate Guide for Success in 2023
The popularity of print on demand products has offered entrepreneurs a new way to explore e-commerce success. Coupled with today's eco-conscious buyers, the market for print on demand tote bags is certainly one of the best. Do you want to make the most of this niche and earn fat profits in 2023?
This article is for you as it dives into the nitty gritties of the best print on demand tote bags and other must-have information.
Is Print on Demand Tote Bags a Profitable Niche in 2023?
Before starting any business, choosing a profitable niche that will reap long-term benefits is essential. With today's rising trend-oriented market, finding such avenues is becoming more difficult. Therefore, as business owners, ensuring that the print on demand tote bags niche is worthwhile in 2023 is crucial.
The global tote bag market will grow profoundly between 2023-2030 with a CAGR of 4.60%. The market will reach $3.60 billion by 2030, promising substantial profits for business owners. Combined with the global print on demand market, projected to rise at a CAGR of 27.8%, the print on demand tote bag is a lucrative niche.
Now that the profits are guaranteed to flow, you must learn how to stand out in today's market. While having competition indicates a niche's profitability, it can become a hurdle if you can't keep up or pave a new way. Therefore, opt for the best print on demand company to excel in this in-demand niche.
Top 10 Print on Demand Tote Bag Companies
The market for print-on-demand tote bags is on an upward curve. However, choosing the right print on demand service is critical to success in 2023. Here are the five best print on demand companies for your tote bags business.
1.Inkedjoy
With 1500+ products for print on demand businesses, Inkedjoy has already made its mark in today's market. It stands out among print on demand providers as a reputable and economical provider. The bulk ordering tool offers various discounted prices, allowing firms to keep a wider profit margin.
Inkedjoy's low rates and quick turnaround make it an enticing option for creative people and businesses. Their tote bags are available in various shapes, sizes, colors, and fabrics to offer your customers a wide range of products. The customization options also allow creative freedom to experiment with new designs and offer distinct products.
Inkedjoy also provides regular and expedited shipping options, assuring quick deliveries to meet consumer requests.
2. Printful
Printful is another renowned name in today's print on demand market owing to its quality and customization options. With over 300+ products, business owners can experiment with their offerings without changing the supplier. The seamless integrations with e-commerce platforms like Shopify and Etsy simplify purchasing and fulfillment.
While Printful's costs can be slightly more than competitors, they make up for it with excellent customer service and dependable assistance. They provide several delivery choices to meet the needs of businesses, and free shipping is offered for orders over $500.
Though limited, Printful's eco-friendly tote bags can grab eco-conscious buyers for businesses.
3. Printify
Printify is a growing print on demand site with 800+ products, including dresses, pet supplies and home decor.The free print on demand platform offers various integrations to explore multiple marketplaces. Business owners can choose various tote bag options with unique fabrics.

Moreover, the high-quality printing and fast shipping make Printify a reliable partner. Shipping rates depend upon the print provider you select.
The only downside is that Printify is on the higher-end product prices, which can lower your profits.
4. Gelato
Gelato is known for its global network of fulfillment partners. Hence, businesses can access customers worldwide without paying hefty shipping fees.
With Shopify and WooCommerce integrations, you can link existing stores and offer the same products on different marketplaces. The platform distinguishes itself by providing a low-cost, environmentally friendly print on demand option. Thus, you can cater to buyers looking for eco-friendly tote bags, amongst other products.
However, Gelato has limited tote bag options higher than other print on demand sites.
5. Yoycol
Yoycol is another remarkable platform with 1000+ product offerings and multiple customization options. The platform's free to use, ensuring cost-effective business and higher profits. The various size, shapes, colors, and fabric options also make Yoycol a worthy option.
Yoycol also offers seamless integrations with major platforms like Shopify, Etsy, and WooCommerce. These integrations help connect to your existing online storefront to save the hassle of setting up your business from the beginning.
The only drawback of Yoycol is its expensive products, lowering the chance of earning good profits.
6. Prodigi
If you're looking for the best print on demand tote bags (UK), Prodigi is the leading company. With speedy deliveries and sustainable printing techniques, entrepreneurs can cater to eco-conscious buyers promptly. Moreover, the 500,000+ product catalog is enticing for businesses looking for diversified offerings.
Prodigi's multiple platform integrations, like Etsy and Shopify, help business owners with easy business setups. Despite that, the limited customization options might be problematic for business owners looking for artistic freedom.
7. AOP+
AOP+ Easy Print on Demand is well-known for its wide selection of printed apparel and accessories at low prices. Their artistically pleasing patterns through all-over printing span the huge surface area of items. AOP+ is an enticing solution for merchants to increase income potential because of its cheap pricing and commitment to generating high-quality prints.
However, AOP+ is on the upper end of the price spectrum. Thus, business owners looking for low-cost alternatives might wish to look at the alternatives on this list.
They provide global shipping, increasing prospects in foreign marketplaces. The site is free to set up, but manufacturing and delivery charges apply when items are sold. Hence, it's an ideal low-cost business partner to get started with print on demand services.
8. Threadless
Threadless is a reputable and reasonably priced print on demand platform for artists and business owners. Artists can collaborate on creative ideas and have their artwork printed on various goods, including apparel and accessories. Thus, Threadless is the go-to choice for creative people with its artist-centric approach and 100+ products. They feature a large selection of tote bags for your business's customers in various sizes and colors.
Threadless's shipment fees start at $6.99 and vary depending on weight, shipment method, and delivery destination. However, Threadless' print quality is inferior to industry standards. Furthermore, products are more expensive compared to other print on demand platforms.
9. SPOD
SPOD is a low-cost print on demand company that stresses speedy production and distribution. SPOD caters to in-demand items, addressing customer desires for different and imaginative stuff, with over 200 products accessible. Shipping from the United States normally takes 3-8 business days, assuring on-time delivery and customer satisfaction.
Their straightforward platform enables businesses to build and customize things, notably diverse clothing possibilities. SPOD's competitive price and quick delivery make them an intriguing option for businesses looking for high-quality items delivered on time. You can also offer your eco-conscious buyers various organic fabric options for tote bags.
While their product variety can be restricted compared to competitors, SPOD provides a positive experience for vendors and consumers through quick manufacturing procedures and trustworthy delivery methods. The platform is free to use, allowing for risk-free testing of their services.
10. Society6:
Society6 is another low-cost print on demand platform dedicated to empowering artists. It enables artists to display and promote their work on various products, from art prints to tote bags. Society6 provides artists with improved visibility and cooperation opportunities through its artist network and promotional tools.
Society6's tote bags are available in three sizes and have robust stitching. The endless design options, even with limited fabric choices, make this platform worth a try.
Most things ship in 3-4 business days, with payment varying depending on the buyer's geographic area. Because the site is free, it provides a risk-free choice for artists.
However, Society6 doesn't deliver vital information about the popularity and profitability of its items to creative persons. Sellers seeking in-depth information into the performance of their offers should be mindful before using Society6 as their print on demand partner.
Choosing the Best print on demand Site for Tote Bags
The print on demand market is crowded, and businesses that don't choose a reliable company are at risk of being left behind. A dependable supplier is fundamental to helping stand out in the market while ensuring top-notch quality and service.
Here are some of the things to consider when choosing the best print on demand site for tote bags:
Product Catalog
Consider the diverse range of items available while looking for the best print on demand service for tote bags. With a varied product catalog, you can cater to various client tastes and target certain niches.
Print Quality
Customer satisfaction and the overall profitability of your print on demand tote bag company rely on high-quality prints. Examine each platform's printing processes and technologies to guarantee that the designs are colorful and long-lasting.
Pricing Structure
To optimize profitability, watch expenses when launching a print on demand tote bag business. Compare the price structures of several print on demand websites to discover one that fits your budget.
Integrations
A smooth and effective operation requires a seamless connection with leading e-commerce systems to automate order processing and fulfillment. Look for print on demand solutions that integrate with Shopify, WooCommerce, Etsy, or BigCommerce.
Shipping and Fulfillment
Efficient shipping and fulfillment services provide a great client experience. Choose a print on demand service with a rapid delivery network to ensure timely order delivery.
Customer Support
Dependable and responsive customer service is essential, especially when unexpected difficulties arise. Prioritize print on demand sites that provide great customer service across email, live chat, or phone channels.
How to Start the Best print on demand Tote Bags Business
There are numerous important elements to consider when starting a print on demand tote bag business. To begin with, rigorous market research is required to define the target market and understand client demographics and interests. To differentiate the firm and set proper prices, it is also necessary to study rivals' strengths and shortcomings.
Design creation should concentrate on a certain niche, working with designers to create aesthetically attractive and unique tote bag designs. Furthermore, choosing a proper print on demand platform is critical, considering product selections, customization capabilities, and print quality.
Choosing the correct e-commerce platform, personalizing the design, and optimizing for mobile and SEO are all critical steps in launching an online business. Social media marketing, paid advertising, email campaigns, and content marketing for marketing and promotion can greatly increase company visibility.
Customer involvement is critical, necessitating prompt customer service, an easy return policy, and promoting customer reviews and feedback. Creating a feeling of community around the business and rewarding loyal consumers with unique perks are effective strategies for developing strong connections.
By carefully studying and applying these characteristics, a print on demand tote bag company can develop a recognizable brand and achieve long-term sustainability.
Print on Demand Tote Bags: FAQs
1. Is there a demand for tote bags?
Yes, as people become more mindful of environmental concerns and seek sustainable alternatives to single-use plastic bags, there is an increasing demand for tote bags, particularly eco-friendly and customized ones.
2. What is the market trend in tote bags?
Consumers are searching for personalized products that reflect their distinctive styles and beliefs. Therefore, the current trend in tote bags emphasizes customization and unique designs.
3. How can I market and promote my print on demand tote bags effectively?
Marketing your print on demand tote bags is easy with infinite social media tools. Furthermore, targeted advertising campaigns and email marketing help you reach and interact with potential consumers.
Print on Demand Tote Bags: Conclusion
Tote bags are a must-have for entrepreneurs looking to tap into the ever-growing print on demand market. The rising demand for eco-friendly products can help businesses excel for years. Moreover, as you navigate the intricacies of e-commerce, ensure having the best print on demand company as your partner.
Businesses like InkedJoy are known for their product quality and exceptional services. Furthermore, follow the market research and store setup tips discussed in the article to have a lucrative brand in 2023.