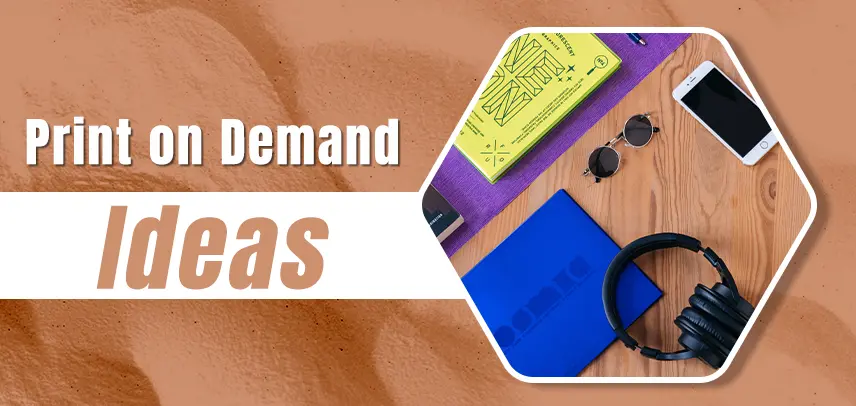 The 10 Most Profitable Print on Demand Business Ideas (November 2023)
The print-on-demand (POD) business has lucrative potential – the global market for the industry has grown at a CAGR of 25.8% from 2023 to 2030 with no signs of slowing down.
In 2022 alone, the total market value for Print-on-demand was valued at a whopping $5.4 billion. You, too, can lay claim to a slice of the pie if you play your cards right.
Having a successful print-on-demand business could allow you to earn as much as $10,000 per month or more.
Here are a few quick facts:
| | | | |
| --- | --- | --- | --- |
| Investment Range | $0 - $1,000 | Revenue potential | $10,000 p.m |
| Time to build | Right away | Profit potential | $10,000 p.m |
| Industry growth rate | Aggressively growing | Commitment | Flexible |
The startup costs are minimal – almost negligible if you know what you're doing – and it's easy to get the ball rolling. Although the barriers to entry in the Print-on-demand industry are relatively low – which makes the competition stiff – you can achieve success as long as you are determined.
Before you jump in, it helps to do a little research. We've done all the homework for you with an easy-to-follow roadmap that will help you get started right away while avoiding major pitfalls.
What Is Print on Demand?
Before you can adopt the Print-on-demand business model, it is important to understand what it refers to. Simply put, Print on demand refers to a process in which you customize products and sell them to customers.
These products could either be water bottles, t-shirts, tote bags, mugs, tables, and even headphones. The idea is to provide these products with a unique look and feel based on your creative input.
What makes the print on demand business model so ideal for beginners is the fact that it doesn't place strict investment requirements on you. You don't need to store products, rent out expensive warehouse space, or hire employees to process and package them.
Some of the main advantages of a print-on-demand business model include:
No need for inventory costs
At its core, PoD is a
drop shipping business model
where you are not required to keep products in stock. You are only required to order stock when your customers place an order. This means you won't have to pay a single dime to store a warehouse of products or end up with a huge amount of stock that you can't sell.
Massive range of products
You are not tied to a single product, such as t-shirts or mugs, unlike factory owners who can only manufacture a certain type of product. You can work on just about any type of product, ranging from jackets and mugs to speakers and shoes. You can stylize just about any product with your own design and offer a massive variety to your customers.
You can order more products to accommodate a growing customer base. If your current supplier is unable to field your growing orders, you can work with a different supplier, and you can meet your expanding production demands. The best part is that you don't have to invest in extra equipment or staff.
10 Best Print on Demand Dropshipping Business Ideas
There are many different kinds of products or niches that you can specialize in. You can sell custom apparel, pet accessories, custom art, corporate merchandise, and even phone accessories. If you're in need of ideas for your print-on-demand business, we've narrowed down some popular options.
1. Custom Apparel and Clothing
Custom apparel and clothing are never going out of trend. Clothes are extremely versatile because they are in demand throughout the entire year, come what may. Of course, there are several sub-categories of apparel and clothes that go in and out of trends depending on the season.
For example,
hoodies
and sweaters are mostly popular during the cooler seasons, while
t-shirts
are wearable throughout the year.
Note that if you're selling apparel on your ecommerce store, make sure to provide customers with a sizing chart so they can select products that will actually fit them (or their friends). Without sizing information, your customers may order the wrong size and blame you for it. This is why you should make it easy for your customers by providing them with a sizing chart before they buy.
Print on demand brand
Inkedjoy
offers size guides under product descriptions that you can add to your website.
2. Custom Home Decor
Custom home decor items have always intrigued buyers, especially those with a penchant for all things art. The trend for home decor has been on the up and up for the past few years and has been showing no signs of stopping.
If you've got a natural knack for art, selling your own custom home decor items is a good option for your online store.
3. Personalized Gifts
Any items ranging from custom stickers to wall art and everything in between can be used as excellent gift items. You will find quite a range of products to use as gifts when you delve into them. There are necklaces, chains, rings, posters, jackets, and shoes. The designs are scalable and adaptable, so you can sell them to a growing audience of buyers.
Demand for personalized gifts has always been on the rise. You can launch your personalized gifts store as a freebie or at a heavily discounted rate. This will help existing customers spread the word about your brand to other potential customers.
4. Pet Accessories
The global pet market is massive and is worth a whopping $235 billion in 2022 and will reach as much as $368.9 billion by 2030. And you can tap into this lucrative market by selling pet apparel at affordable rates to customers around the world. Pet sales are always rising, especially during the holidays, and always seem to remain consistent.
Make sure to get creative with your pet products. Some top sellers might be colorful scarves or t-shirts. Dog bow ties are also incredibly trendy and fun to design.
5. Art Prints and Posters
If you're a budding artist who loves a challenge, you should dabble in the fine arts by experimenting with your creative side.
Seekers of art are always looking for something unique and innovative that they won't find elsewhere, especially on their friend's wall. This is where your creativity comes in. It can be challenging to price your art, especially if you're new to the market. Make sure to consider the market and research works from comparable artists who are also selling prints and posters on their websites.
Keep in mind that experienced artists may be able to charge higher rates. Once you've built your credibility, you may be able to sell prints and posters for a better price.
6. Custom Stationery
You would be surprised just how common stationery is in the increasingly digitized world. Even if these items don't find use in the workplace, they can be statement pieces in their own right. With this in mind, you can offer stunning designs on stationery products to your customers.
From notebooks and pens to post-it notes and pencils, your options for stationary items are incredibly wide.
7. Custom Phone Accessories
There are more mobile phones than there are people. Many people are juggling around up to two phones at a time. This makes a good case for starting a phone accessory business, especially that of custom phone cases.
Speaking of which, custom phone cases are very easy to source and appeal to customers who want to customize their phones while also protecting them. You can really go to town on designing phone cases with options ranging from catchy slogans to unique artwork. The sky really is the limit here.
8. Personalized Jewelry
Most people like to adorn themselves with jewelry and express their stylistic choices. People of all ages and classes wear jewelry for all kinds of reasons. The best part is that jewelry isn't restricted to any particular time of the year, although it can be worn for different occasions in the form of bracelets, rings, and necklaces.
Jewelry is also very lightweight, making it a good
print on demand product
because it can be shipped with minimal cost to you.
9. Corporate Merchandise
Selling corporate merchandise is a great way to boost your sales because corporations often have a massive budget. The designs are often easy to work with because you already have source material to refer to the client's own logo and brand. They are purchased in bulk, and once you fulfill an order with a specific client, you may gain a repeat customer.
Demand for corporate merchandise is always going to be relatively high as businesses seek to differentiate themselves from their competition and attract more customers as well as employees.
10. Customized Packaging
Customized packaging is essential for branding and providing information about products to customers. You can offer packaging designs of a wide array for companies to use to serve their business purposes. Once a company finds your ecommerce store for their packaging needs, chances are that they will turn into a repeat customer.
Corporate clients could be your biggest source of revenue if you can maintain excellent design, good customer support, and of course, faster delivery rates.
Print on Demand Business Ideas: FAQ
1. Can I Outsource the Design to Another Artist?
Absolutely. There is no rule that tells you that the design must come from you or your own customers. You can hire freelance designers or work with the Print-on-demand company's own in-house designer. Of course, this option will come at an extra price and could increase the amount of investment from you.
2. How Do I Price Print-on-demand Products?
Your goal is to break even, at the very least, even if you're just getting started. Try to factor in your costs of production, printing, and shipping when setting your prices. All your overhead costs, including employee salaries, bills, rent, mortgage, and other fees, should be taken into account when settling at a price point.
3. How Do I Market My Print-on-demand Business?
Your biggest bottleneck to reaching new customers would be marketing. You can use various tools to get the word out about your POD business, including search engine optimization, pay-per-click marketing, social media marketing, and influencer marketing. Ideally, you should use a combination of all of the above to maximize brand visibility.
Conclusion
So there you have it, a detailed guide on how you can start a print-on-demand business on a minuscule budget. It is important to keep in mind that the process of finding niche products will be very experimental at first. Finding a way to channel your creativity into the right combination of products is an ongoing process.
Whether you choose to specialize in one product or a wide range of products, keep in mind that you will have to build a name for your brand in your niche. Try to partner with the right supplier, such as Inkedjoy, who will help you build your reputation with customers.