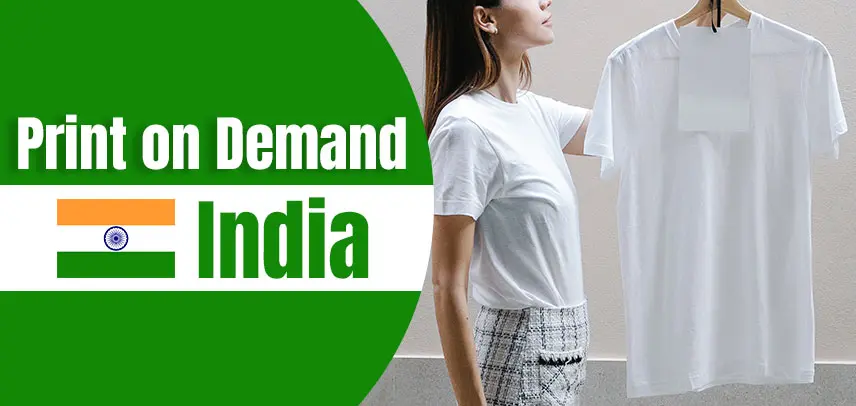 9 Superb Print On Demand Dropshipping Sites in India(September 2023)
The global print-on-demand industry is growing by the minute, and the market size is expected to cross over $6 billion dollars in 2022. The print-on-demand market has penetrated the Indian audience and is a thriving business with minimal competition. Most of you reading this might not be familiar with this e-commerce business model, so read on to find out.
If you are a creator and ever wanted to launch your own prints, the conventional method of investing time, money, and preparing a storage space for all the inventory might have put you off. However, with print on demand, you can easily sell your designs without any need for an inventory or investment.
A print-on-demand business entails working with a provider of white-label products, which you can personalize with your own designs and sell through online e-commerce platforms like Shopify or Etsy. But is it a good idea to step into this business right now in India? Let's find out.
Is Print on Demand Profitable In India?
For anyone who is unaware, print on demand is an eCommerce business concept in which you merely create the items and publish them in your shop. Your supplier creates the item when the order is placed and sends it to your client in your name. You are not required to maintain an inventory because you pay per piece. Additionally, you might need to pay a membership charge to your supplier.
Because of this, print-on-demand companies are becoming more and more well-known on a global scale. All you need to do is come up with original designs and advertise the goods.
Even though "print-on-demand" hasn't taken off in India, more businesses are starting up every day. But before you decide to start this business model, make sure you have undertaken thorough research regarding the market trends and in-demand designs. Research is necessary to choose the ideal print-on-demand business to realize your concepts because every platform has a different product selection, shipping requirements, and unique characteristics that will affect your choice.
In an e-commerce business, particularly a print-on-design dropshipping model, a lot of your success and profitability depends on your marketing. It is undoubtedly a highly exciting and rewarding business if you are able to maintain your costs for acquiring customers or marketing expenditures low.
The main problem with the Indian target market is that customers prefer paying cash on delivery rather than making online payments, which can act as a barrier to profitability since clients often return products this way, and you end up with losses.
What is the Print On Demand Dropshipping in India?
In India, there are numerous print-on-demand businesses available. The Indian print-on-demand services are great since you'll be able to find solutions for many challenges. Store builders, wholesale POD, a vast customization catalog, and affordable prices. This is why print-on-demand companies are becoming more and more well-known on a global scale. All you've got to do is come up with original designs and advertise the goods.
Selling print-on-demand items online and creating a successful business is challenging in India. To succeed, you'll need to create your own store, design t-shirts, handle sales and marketing, provide customer support, and do a lot more. However, with the right pricing, creative and fresh designs, and a good marketing strategy, you can become an instant success in India.
Following are a few reasons why print-on-demand dropshipping in India is a good idea and why you should start right away:
Due to the adoption of smartphones, rising disposable incomes, rising use of the internet, and a never-ending quest for innovative goods and clothing, the print-on-demand dropshipping business will only grow in India.
Print on demand in India makes it easier than ever to create your own brand image. Putting your brand or label on each POD product you provide to customers will increase its worth. Every POD item that is shipped out to customers can include your company's logo to establish a strong brand identity for your business that prospective clients will naturally associate with.
You don't want to carry a significant inventory of out-of-date clothes that will never be bought, especially with fewer lines and multi-season themes dramatically slowing down the design-to-shelf speed. With no leftover stock, print on demand enables you to rapidly and skillfully capitalize on the newest fashion trends. Since you always carry the newest trends, your items will go rapidly. Customers that want vintage looks can be catered to by having their purchases rapidly filled via POD.
These are just a few reasons why print-on-demand dropshipping in India has bright prospects, and with a little hard work and dedication, you can soon enjoy the fruits of your harvest.
How to Find Print on Demand Companies in India?
Although the POD scene is fairly new in India, it has started gaining traction with lots of new startup businesses that are selling both locally and internationally. With the growing popularity of this business model, there is an entire network of print-on-demand dropshippers who have access to authentic suppliers.
The most popular print-on-demand model in India is T-shirts; however, it is quickly becoming saturated and can increase in return of products due to ill fittings or any other problem.
If you can break into the market for other print-on-demand products like tote bags, hats, caps, cushion covers, etc., that might also improve your chances of success as you won't have that much competition in India. Now, let's move on to some of the best print-on-demand dropshipping sites in India.
9 Superb Print On Demand Dropshipping Sites in India
1. Inkedjoy
Inkedjoy is amongst the top print on demand dropshipping sites in India. By selecting the best products at affordable costs, Inkedjoy enables you to boost the value of your business and attract numerous repeat clients who are happy with everything they receive.
With a selection of more than 2500 products, many of which are most likely to fit into different target categories, you can discover the ideal things to market for your e-commerce websites.
The ability to enter a client's design onto a specific product on the internet allows you to view the look prior to submitting it for digital printing. Inkedjoy offers a thorough quality assurance procedure that routinely evaluates textiles and other printing materials for overall quality and durability, leading to satisfied customers. If you have a good working relationship with this organization, you only need to email them the client's preferred design, and they'll carefully affix it to the product.
Additionally, connecting your Etsy, WooCommerce, and Shopify stores with Inkedjoy is incredibly straightforward, enabling you to import goods with ease and resell them for a profit. Inkedjoy uses its auto-sync capability to start the printing and delivery procedure as soon as you begin receiving orders.
Because of its comprehensive product offering, which covers products throughout many classifications, Inkedjoy is possibly the most adaptable printing company. Inkedjoy includes products like hats, pet supplies, shoes, swimsuits, dresses, hoodies, kid's clothing, home décor, and much more. Plus, Inkedjoy does not charge any registration fee for its amazing services.
You can harness your creative energy and easily develop appealing designs on the items of your selection by using their potent toolkit for designing. With the help of their design tools, it is simple to create eye-catching designs and even submit your own photos, allowing you to include images and texts on a variety of goods and items.
Another one of Inkedjoy's selling points is that it offers competitive pricing when compared to other well-known printing businesses, ensuring that quality isn't compromised in exchange for a lower price.
This demonstrates how committed it is to fulfilling its aim of giving customers just what they desire and providing the lowest prices for the best products available anywhere. Inkedjoy has collaborated closely with over 200 dropshipping vendors to offer exceptional possibilities for their companies and brands to thrive. Custom labels, gift vouchers, packing bags, hangtags, and other branding benefits are available.
If you're a starter package subscriber, you can quickly upload your logo and get the design blueprint, enabling the membership plan when you pay the customizing fee. Inkedjoy operates under the dropshipping model and offers a wide range of shipping alternatives appropriate for all nations, giving buyers the option to estimate shipping costs, estimated delivery times, and select their chosen freight forwarder.
Customers may rest easy knowing that Inkedjoy's shipping assurance will assure a complete refund in the event of any issues or delays. Regardless of the time of year, any clients who experience shipment delays will receive a refund within 40 days. With Inkedjoy as your print-on-demand dropshipping platform, you can rest easy, as all your business transactions will be in good hands with guaranteed success.
Following are a few other print-on-demand dropshipping sites in India:
6 Best-selling Print on Demand Products in India
In the Indian market, the top-selling Print on Demand commodities tend to exhibit variability contingent upon market demand, seasonal shifts, and prevailing trends. Presented below are a selection of POD merchandise categories poised for strong sales performance within India:
1. Customized Attire and Apparel: Within the realm of POD commerce, garments such as T-shirts and various clothing articles hold a prominent position. Discerning consumers often seek garments adorned with captivating and innovative designs, rendering customized apparel a favored choice within the Indian consumer landscape.
2. Artistic Prints and Wall Decor: India demonstrates a pronounced inclination towards home embellishments, where art prints and wall decor showcasing diverse artworks, sceneries, and cultural motifs often achieve remarkable popularity.
3. Personalized Device Protection and Accessories: Personalized phone cases, laptop sleeves, and a spectrum of electronic accessories experience robust sales. Consumers exhibit a willingness to invest in customized paraphernalia, recognizing the added value they bring.
4. Bespoke Beverage Containers and Hydration Vessels: Customized coffee mugs and water bottles emerge as coveted selections for gifting, suitable for occasions including birthdays, weddings, and festive celebrations.
5. Tailored Stationery and Scheduling Aids: Tailored notebooks and calendars are consistently sought-after items, particularly during the commencement of each academic year.
6. Artful Home Furnishings: Items designed to enhance home aesthetics, including personalized pillows, blankets, cushions, and tote bags, find substantial demand as integral components of home decor.
Conclusion
These sites will be of great help if you want to start your own print-on-demand dropshipping business in India. And now is a great time to do so since the industry is growing rapidly, and there are several market gaps you can fill with minimal competition.
By utilizing your own designs, you may make and sell things on these websites without worrying about paying for production or shipment. Create a product, submit your artwork, and establish an online store instantly!