How to Sell More Print on Demand T-Shirts? (Marketing and Data Analytics)
In our previous article, we explored how thoughtful
market positioning and ongoing product optimization
are critical for success in the
print on demand t-shirt industry
. Finding profitable niches, expanding products, optimizing listings, and creating timely designs help budding entrepreneurs boost sales. Now, we will dive into the integral roles of marketing and data analytics in maximizing print-on-demand sales and growth and offer
4 essential tips to help boost your print on demand t shirts business
.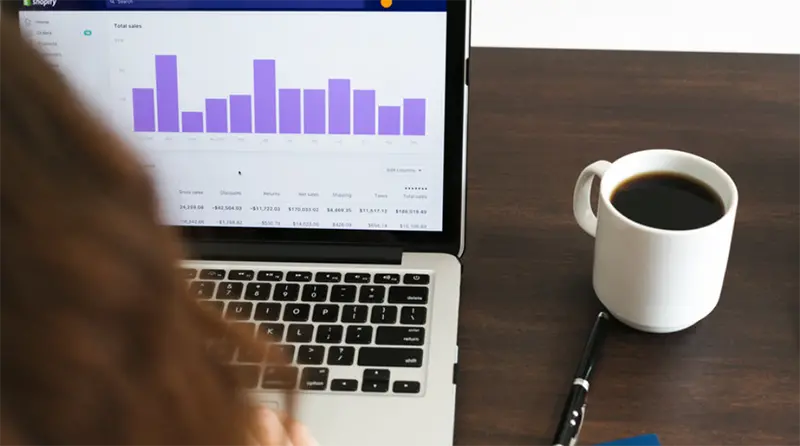 The Importance of Marketing and Data Analytics in Print on Demand Business
Effective marketing is critical for bringing in new customers and driving demand for printed products in a print on demand business. Digital marketing across channels like social media and pay-per-click advertising increases website traffic and conversions. Email marketing helps nurture leads and retain existing customers. Creative campaigns and partnerships expose products to new audiences. Marketing builds awareness and demand for the print on demand company's offerings. Without solid marketing, a print on demand business will struggle to acquire customers at scale.
Leveraging data analytics is just as crucial for optimizing operations and increasing sales. Web analytics provide insight into site traffic, conversions, and other metrics to improve customer experience. Production analytics identify inefficiencies in the printing process to reduce costs. Sales analytics reveal top-selling products to guide merchandising decisions. Customer analytics allow the personalization of promotions to drive greater engagement. Data gives print on demand companies visibility into what is and isn't working. Combining marketing creativity with data-driven decision-making is key for print on demand companies to acquire, convert, and retain customers in a profitable way.
How to Sell More Print on Demand T-Shirts by Using Marketing and Data Analytics?
Leverage Social Media Marketing
Social media is a goldmine for direct customer engagement. But to truly leverage its power, you need a well-thought-out strategy. Analytics tools like Facebook Insights or Instagram Analytics can help you understand your audience's behavior: What time do they most engage with your posts? What type of content gets the most shares or likes? Use this data to refine your social media strategy.
Offer Discounts and Promotions
Discounts are great, but flash sales can create a sense of urgency that drives quick sales. Countdown timers on your website or social media posts can further add to this effect. Also, consider "Buy One, Get One" offers or tiered discounts (e.g., "Save 10% on orders over $50") to encourage larger purchases of print on demand T-Shirts.
Create Social Proof
User-generated content is the pinnacle of social proof. A shift from merely reposting customer photos to launching hashtag campaigns elevates customer engagement levels. Customers are encouraged to share their unique narratives and experiences with the product. Exceptional contributions find a spotlight on digital platforms, including the website and social media channels. This not only creates social proof but also fosters a community around your brand.
Analyze and Optimize Your Strategies
Data is your best friend. Harnessing data analytics tools like Google Analytics, Facebook Pixel, or platform-specific metrics serves as a cornerstone for business optimization. These tools enable the tracking of critical KPIs such as conversion rates, customer lifetime value, and return on ad spend. Through A/B testing, refinements in product listings, pricing strategies, and advertising campaigns are continuously made, ensuring maximum ROI.
Best Companies of Print on Demand T-Shirts
Now, with these 4 expert tips on t shirt print on demand in terms of market positioning and product optimization, it's time to choose the best print on demand t shirt companies.
1. Inkedjoy
Inkedjoy has become a preferred choice for T-shirts print on demand dropshippers, offering a user-friendly interface for designing and selling products with no minimum order requirements.
They offer a vast catalog of over 1,500 products, making it a comprehensive platform for printing needs. Their product range includes items like hoodies, T-shirts, shoes, and home decor.
Shipping is available to many countries worldwide, with delivery times and costs varying by destination. Tracking is offered for most shipping options, making Inkedjoy a convenient choice for those looking to start their custom printing business.
2. Printful
Printful is a strong contender in the print on demand services industry, although it has some limitations compared to Inkedjoy. Printful's drawbacks include a narrower range of products, less effective phone support, and a mobile app that needs improvement. However, it remains a solid choice, particularly if your product range isn't extensive.
Like Inkedjoy, Printful offers a comprehensive suite of fulfillment services, handling product packaging and shipping on behalf of users. It boasts a substantial user base of over 250,000 individuals and businesses across popular e-commerce platforms like Wix, Shopify, and WooCommerce, with a significant presence on Shopify.
3. Printify
Printify is a prominent print on demand (POD) platform known for its extensive network of print providers and diverse range of customizable products. With a user-friendly mockup generator, it simplifies the design process, allowing users to visualize and adjust their artwork on various items, from T-shirts to home decor and promotional products.
Its seamless integration with popular ecommerce platforms like Shopify and WooCommerce automates order fulfillment, making it convenient for online businesses.
Moreover, transparent pricing helps users calculate profit margins effectively, and Printify's scalability caters to startups and established brands alike, enabling them to reach a global audience with international shipping options.
4. Teespring
Teespring is a well-established player in the print on demand industry, renowned for its focus on custom apparel and merchandise creation.
The platform boasts an impressive array of customizable products, ranging from T-shirts and hoodies to phone cases, home decor, and accessories, catering to a diverse spectrum of customer preferences.
The seamless integration with various e-commerce platforms, such as Shopify, streamlines order management and fulfillment, making it a convenient choice for online store owners.
Conclusion
Integrating marketing and data analytics is imperative for any print-on-demand business looking to scale up sales. Leveraging social media engagement, promotions, and user-generated content and continuously optimizing strategies based on performance data will maximize business reach and conversion. Just choose the best print-on-demand t-shirt companies, such as Inkedjoy, Printful and Printify, which provide built-in sales analytics while also handling production. Their high-quality printing and expansive product selection let entrepreneurs focus on marketing creativity and data-driven decision-making. Following the tips outlined here will empower print-on-demand sellers to boost sales, acquire customers, and build a thriving brand.