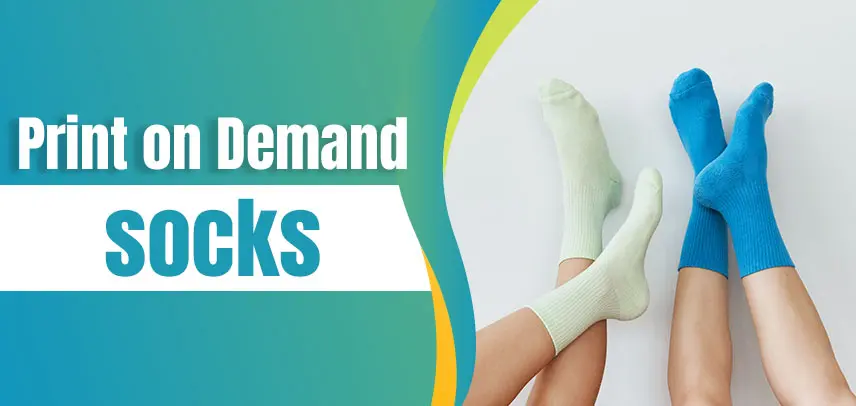 Print On Demand Socks: 10 Best Suppliers 2023
The strict requirements for workplace attire and appropriate public appearance leave little room for self-expression, so people turned to subtle ways to satisfy their creative itch. As one of the cheapest options in the product catalogs of the print on demand industry, entrepreneurs and artists flocked to print on demand socks to meet the consumers in the middle.
Consequently, the custom stock printing market experienced a 3.30% surge in demand while projecting $14.2 billion in revenue in 2022 because of marketing and branding requirements. Soon, the custom-printed socks became a staple for business-casual looks and were necessary to add funk to anyone's style. Additionally, people sought them as a viable option for personalized gifting and souvenirs at events.
If you are curious about where people get these personalized socks, look no further. We have listed the best suppliers who allow you to send your designs for custom sock printing with no additional charges aside from offering an extensive selection of their own. Some even provide a digital design toolkit on their website to help you give your design a personal flare.
Scroll down to learn more about them!
Is dropshipping print on demand socks profitable in 2023?
Yes, dropshipping print on demand socks is a profitable business in 2022, as per the statistics. More people seek comfort in cozy, personalized apparel and have turned to custom sock printing for answers. The increase in demand provides a lucrative opportunity for any sock printing company to make a bank without spending anything.
Unlike most startups, you barely need capital to start a custom sock printing business. Low cost of production and subsequent risk leads to no waste and high profit margins. Essentially, the print on demand business allows you to only print what is guaranteed to be sold, eliminating the mind-numbing inventory issues common in the apparel market.
Additionally, by making different designs available, you can have an inclusive sales approach and cater to even the most niche fanbases. With the rise of pop and merch culture, people of all age brackets flock to custom sock printing to procure novel designs. They use it as a calling sign to attract their fellow enthusiasts and make new friends.
As long as you know the right marketing tactics and a working digital printer to produce high-quality designs for custom sock printing, you can generate high revenues for your sock printing company. Furthermore, there is always room to expedite your operations by offering other custom-printed apparel options.
10 best suppliers for custom sock printing
As mentioned earlier, custom sock printing is a growing billion-dollar market, so there are plenty of gray areas for scams and frauds to set camp. The best suppliers for custom sock printing are those who don't charge a dropshipping fee and dropship worldwide. This way, as a customer, you have less to use and can be at ease while ordering from them in bulk.
By being the third party in the business model, suppliers risk receiving bad or low-quality products to no fault of their own. You can avoid this problem by looking for suppliers with strict quality checks. They will check your goods for you and, upon finding any fault, will return them on your behalf instead of sending them to you blindly.
1. Inkedjoy
Inkedjoy is the leading supplier in the custom sock printing market, helping you express yourselves with our print on demand socks. We are your one-stop and all-inclusive custom printing solution, facilitating your marketing campaigns by providing promotional material for your brand.
Our branding project helps dropshipping merchants create their independent brands in 5 easy steps. All they need to do is submit their logo, approve the blueprint of the design we send you, and pay for the customization. We'll handle the rest of the logistics, like buying the products, customizing, labeling, and shipping to your customers. You can join our branding project through membership plans priced at $19.9/year and $99/year for beginners and experts, respectively.
We ship products worldwide and have warehouses in China, the United States, and Australia. To keep our shipping services quick and effective, we use Singapore and Netherlands Post for worldwide shipping along with the regional express delivery for Canada, the UK, and Australia and offer a refund for order delays. The shipping fee relies on the product and the method of shipping you choose to ship your products.
We are integrated with eCommerce platforms like Shopify, WooCommerce, and Etsy as a custom printing company with a diverse product catalog. We don't only offer custom sock printing but have a print-on-demand dropshipping model for bags, shoes, and all kinds of clothing ranging from t-shirts to suits and home décor.
Considering our diverse product catalog, we use AOP (All Ver Print) technique to meet customer demands. Our products can be purchased for as low as $1 and as high as $15. The price variation depends on the product type, printing methods, design size, and complexity.
2. Socksprints
Sockprints sells custom printed socks for all kinds of festivities, from weddings and bachelor parties to birthday parties and baby showers. The sock printing company uses water-based ink to print the design of your choice directly on the cotton fabric of the socks. All you need to do is choose your design and style of socks to get the process rolling at their warehouse.
They offer free standard shipping within the US on orders above $35 and international shipping via FedEx to keep in check with the ever-fluctuating international shipping laws. The company has a terse product checking process that involves hand packing and inspecting every order before sending it out.
3. Printful
Printful allows its global customers to sell customized products using its print on demand model. They provide warehousing services and act as a fulfillment handler customizing, packing, and shipping for you without delays. They are integrated with 22 eCommerce platforms, including Shopify, Amazon, WooCommerce, eBay, PrestaShop, etc., and ship globally for additional charges. Their fulfilling services are also valid for custom APIs and require no roundabout acquisition methods.
If not for business, you can also use their services to order personalized products for yourself or send custom gifts to your loved ones. Their product catalog includes drinkware, hoodies, sweatshirts, patches, posters, t-shirts, tank tops, etc.
4. Tribesocks
Tribesocks have a team of designers creating offers vibrant designs for print on demand socks. They use sustainable socks and cutting-edge printing technologies to complete your orders within a 5-day turnaround.
This sock printing company goes the extra mile by assisting you with fulfilling orders on your website and other eCommerce platforms. They have no requirement for minimum orders, and customers can order one pair or several hundred pairs, and Tribesocks will be quick to deliver. They also provide worldwide shipping for a fee and have shipped to over 40 countries since their inception.
5. Custom Happy
Custom Happy spreads the cheer by promoting personalized gifts and facilitating marketing operations for small and big companies. This custom printing company does printing on your products, labels them, and then ships them wherever you want them to be shipped for a discounted shipping fee. They accept bulk orders and fulfill orders on your behalf on your Amazon store.
Their product catalog includes shot glasses, pillowcases, mugs, and travel mugs that they can even send blanks to customers who want to print by themselves. Their order fulfillment services extend to Shopify and Etsy for the same shipping fee.
6. Custom sock shop
Custom Sock Shop is a much-celebrated sock printing company helping individuals and organizations express and market themselves. Customers can upload their logo or design or share their idea with their team after choosing the sock style to get their print on demand socks. The company offers free shipping in the US and delivers within 7 to 10 business days.
Wholesale orders are made easy with their in-house designers working on the principle of collaboration. For bulk custom orders, customers must order a minimum quantity of 15 socks of the same size and color, whereas, for already available printed socks, there is no minimum order requirement.
7. The Studio
The Studio is a custom printing manufacturing platform providing print on demand socks, pins, patches, accessories, apparel, and several other products. Customers can use their online tool for product design to create personalized products and get them shipped anywhere in the world for a small fee. The company has worked with global and popular brands like Netflix, Adidas, Pinterest, and Uber because of their top-quality supply of promotional materials like lanyards, cufflinks, coins, keychains, etc.
The Studio allows its customers to increase their profit margins by ordering in small batches to save on upfront costs. They can make timely deliveries, even for last-minute orders, without compromising quality.
8. Printer's Studio
Printer's Studio is another inclusive custom printing company using high-quality industrial printers to provide you with your print on demand clothing, cards, games, books, bags, electronics, and accessories. They allow you to print your design on any product of your choice for branding, marketing, or personalized gifting. They carefully check their products for any quality issues before shipping them worldwide.
Customers can check the shipping fee of their order by inserting the quantity of a specific product in the digital calculator available on their website. For instance, the estimated standard shipping cost for four personalized clipboards is $28.49 for a delivery time of 9 to 11 business days.
9. Prosocks
Prosocks is a custom sock printing business selling print on demand socks exclusively. You can go on their website and choose the style of socks you want before heading over to their design lab to personalize them. This custom sock printing company operates in the United States and delivers to your address within seven days with a 14-day return policy.
All refunds and returns are processed only within 24 to 48 hours of the delivery. The pricing for the socks can go as low as $7 on the bulk order of 500 pairs, but usually, the lowest you can go per pair is $19.
10. Gooten
Gooten is the definite solution to taking your custom printing company to new heights. This print on demand business model has an expansive catalog integrated with eCommerce platforms like WooCommerce, Big Commerce, Shopify, Etsy, and API. They sell print on demand socks, t-shirts, other apparel items, wall art, and accessories for adults, babies, and pets, like cozies and phone cases.
They pride themselves in maintaining a less than 2% error rate in their shipping and almost always delivering on time. Gooten offers worldwide shipping, but their shipping varies depending on the product and your region. People living in the United States and Canada can get their parcels much cheaper than in the rest of the world.
How to dropship custom socks?
Dropshipping custom socks is easy and hassle-free with Inkedjoy, as they allow you to order from them without minimum order requirements. You can order your print on order socks in four easy steps:
Choose a pair of sicks on Inkedjoy and start designing
Go to the product catalog of Inkedjoy, choose the style of the socks you want and click on "Design and sell for your business" or "Design or order for yourself." You'll be asked to log in and then be taken to a page where you can translate your ideas visually on the screen or submit your already prepared design. For your convenience, you can find a guide to designing 3D prints on the product description page.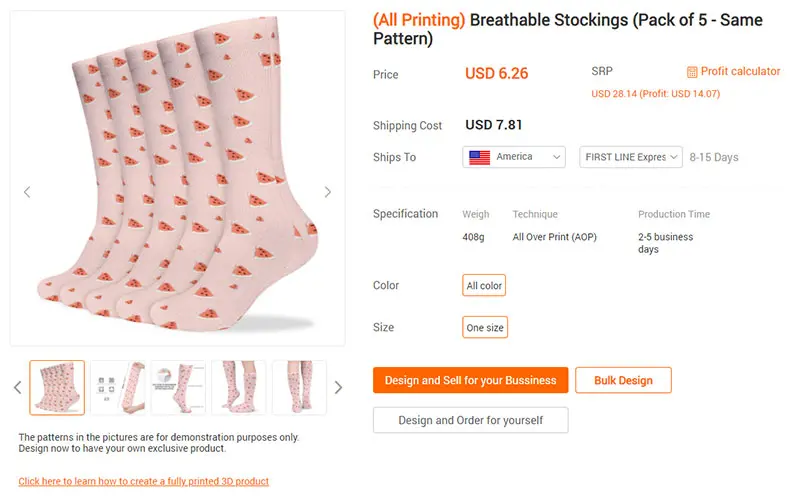 Design the socks by one-piece customization
Even in bulk orders, you can employ one-piece customization to order in multitudes without putting in a separate order every time.
Set the product details and push to store
The product description page allows you to tinker with the specifics like size and color. Once you know what you want, choose an eCommerce platform to connect with your store and close your order.
Inkedjoy fulfills your orders
Once received, Inkedjoy will fulfill your order, depending on your region.
Inkedjoy lets print on demand companies know their profit margins by suggesting t a retail price. The profit margin calculator and SRP are available at the top of the product description page. Their inclusive guides for design, printing, and pricing help businesses from different backgrounds to expand their operations in custom printing without worrying about risks and losses.